Alaa Abdel Fattah detention: Truss to seek release of British-Egyptian activist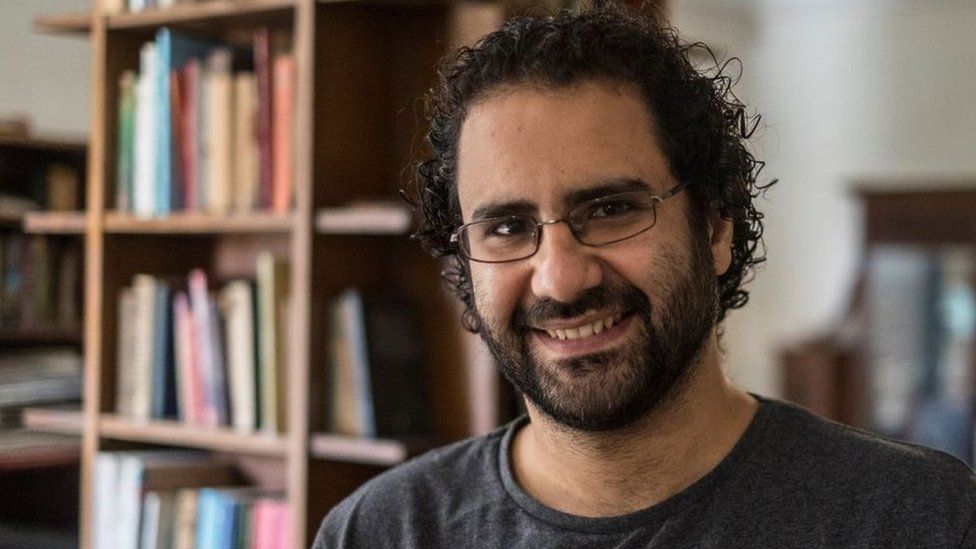 The UK foreign secretary has said she is working hard to secure the release of a British-Egyptian activist who is on hunger strike in prison in Egypt.
Liz Truss told MPs she intended to raise Alaa Abdel Fattah's case when her Egyptian counterpart visited the UK.
His family welcomed the comments but said his hunger strike was in its 81st day and that time was "running out".
Last month, MPs and peers urged Ms Truss to help Abdel Fattah, who is in jail for allegedly spreading fake news.
A letter sent to the foreign secretary warned that he was being held in "inhumane" conditions as a political prisoner and expressed concern that British diplomats were being denied consular access.
The Egyptian government has previously dismissed accusations over prison conditions and insisted there are no political prisoners in the country.
Alaa Abdel Fattah first rose to prominence during the 2011 uprising that forced long-time President Hosni Mubarak to resign.
Since President Abdul Fattah al-Sisi came to power in 2014, the 40-year-old pro-democracy activist and blogger has spent most of the time in prison or police detention.
He was sentenced to five years in prison last December after being convicted by a state security emergency court of "spreading false news that undermines national security" in a 2019 social media post. Human rights groups had called the charge spurious and the trial a sham.
On Tuesday, a day before a planned protest by Abdel Fattah's family outside the Foreign, Commonwealth and Development Office (FCDO) in London, Liberal Democrat foreign affairs spokeswoman Layla Moran asked Ms Truss in the House of Commons: "Will she consider meeting them to discuss how we can ensure his release?"
"I assure the honourable lady that we are working hard to secure Alaa Abdel Fattah's release," the foreign secretary replied.
"[Minister for North Africa] Lord Ahmad has met the family and I am seeking a meeting with the Egyptian foreign minister who is due to visit the United Kingdom shortly, where I will raise this case."
One of Abdel Fattah's two sisters, Mona Seif, called the pledge "an incredible relief".
"We've always believed that, if the FCDO put its full weight behind Alaa, his nightmare would be over," she told the PA news agency. "But he is on day 81 of hunger strike now and time is running out. I hope they decide to fully commit before it's too late."
Abdel Fattah's family said he began a hunger strike on 2 April to protest against his unjust imprisonment, cruel detention conditions and denial of consular visits.
Last month, he was transferred to a "rehabilitation centre" at the Wadi al-Natrun prison complex, north of Cairo, from the notorious Tora prison, where his family said he had been deprived of reading materials, exercise, sunlight and bedding for two-and-a-half years.
Sanaa Seif, Abdel Fattah's other sister, told a news conference last week that he had "switched to what he calls [a] 'Gandhi-inspired hunger strike'" since the transfer.
He had consumed only water and rehydration salts during the first 55 days, but was now "taking 100 calories a day, basically to gain us more time in the campaign for his release", she said.
You may also be interested in: