Syria war: UN extends aid lifeline to rebel-held Idlib by six months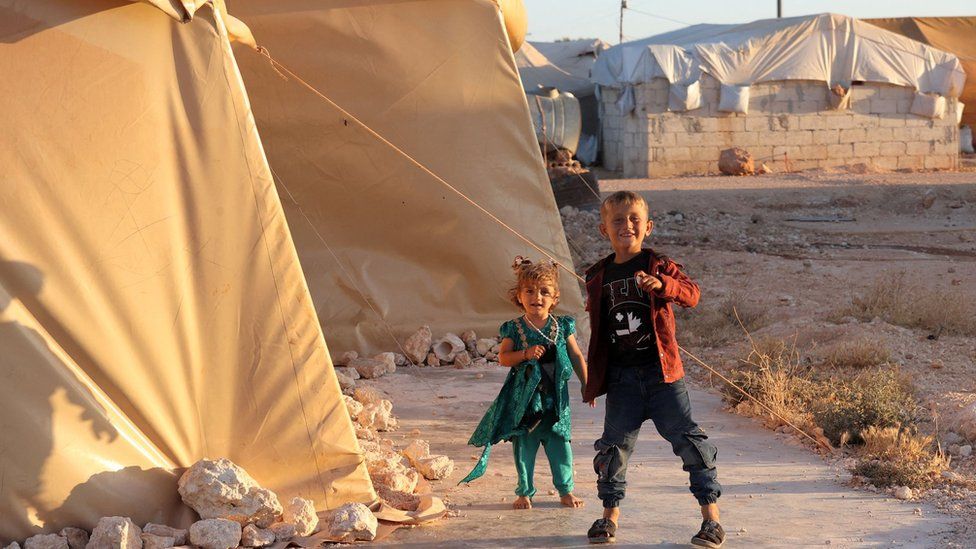 The UN Security Council has reauthorised cross-border deliveries of aid to rebel-held Syria for six months.
Western powers bowed to a demand from Russia, a staunch ally of the Syrian government, which vetoed their proposal for a one-year extension last week.
The mandate for deliveries via Turkey expired on Sunday, prompting the UN aid chief to warn that "people will die".
Some 800 lorries cross into the north-western province of Idlib every month with aid for 2.4 million civilians.
Almost double that number of people, mostly women and children, are trapped in the last stronghold of the jihadist and Turkish-backed rebel groups opposed to President Bashar al-Assad after 11 years of brutal conflict.
An estimated 70% of the civilians already do not have enough to eat at a time when food prices are continuing to rise sharply and one in three children are undernourished, according to the UN.
More than 1.7 million internally displaced people are also having to live in dire conditions in tented camps and informal settlements with limited access to water, sanitation and healthcare.
The region also regularly sees deadly clashes, air strikes and shelling despite a ceasefire brokered by Russia and Turkey in 2020 to halt a government assault.
More than 56,000 lorries carrying food, medicine, shelters and other live-saving aid have gone into areas of Syria outside the government's control since 2014, when the Security Council authorised the UN's first such cross-border humanitarian operation.
In 2020, Russia and China used their veto powers as permanent council members to stop UN deliveries via Jordan and Iraq, as well as one of the two Turkish border points.
They argued that the operation violated Syria's sovereignty and territorial integrity, and that the aid should cross the front lines via government-controlled territory.
That move meant people living in the Kurdish-controlled north-eastern Syria had to start relying on shipments via Damascus and left the Bab al-Hawa crossing as the UN's only option to access Idlib.
On Friday, Russia vetoed a Security Council resolution drafted by Ireland and Norway that would have extended authorisation for deliveries via Bab al-Hawa for another year, while the US, UK and France blocked a Russian proposal for a six-month renewal.
She warned that a six-month extension "could leave Syrians without blankets in the dead of winter" and would deny the UN its partners the time to organise the reliable supply of aid.
Western powers eventually bowed to Russia's demand for a six-month extension of deliveries through the Bab al-Hawa crossing until January 2023, after Mr Polyanskiy continued to insist that anything else would be vetoed.
Russia, China and 10 other countries voted in favour of the resolution on Tuesday, while the US, UK and France abstained to register their anger.
Ms Thomas-Greenfield claimed afterwards that the aid operation's mandate had been "held hostage" by Russia.
"When I spoke to UN experts and NGOs over the weekend, they told us that a temporary extension is, of course, better than nothing. So we did not block this resolution, even though it falls far short of the Security Council's duty to the Syrian people," she added.
A US Central Command statement said Agal was "responsible for aggressively pursuing the development of [IS] networks outside of Iraq and Syria" and that his removal would disrupt the group's ability to carry out global attacks.
It added that a senior IS official closely associated Agal with was seriously injured in the strike, which targeted a motorbike near Jindayris on Tuesday. First responders from the White Helmets said two people had been killed.
You may also be interested in: