West Bank: Al-Aqsa Martyrs' Brigades commander Ibrahim al-Nabulsi killed in Nablus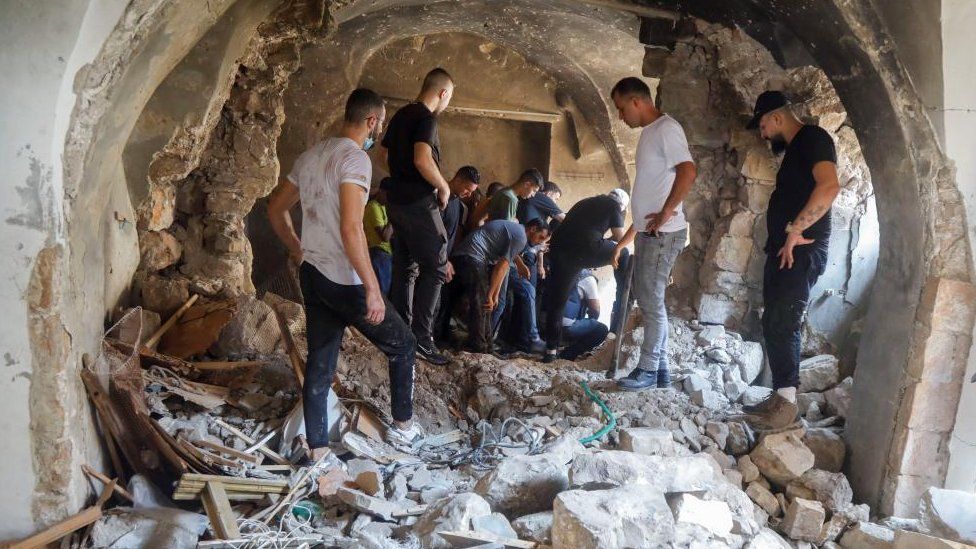 The local head of the Palestinian militant group, the al-Aqsa Martyrs' Brigades, has been killed in an Israeli operation in the occupied West Bank.
Ibrahim al-Nabulsi, 26, and two other people were killed during the raid on a house in the city of Nablus.
At least 40 people were injured, the Palestinian Red Crescent said.
The al-Aqsa Martyrs' Brigades is a network of militias linked to Fatah, the Palestinian movement which controls the West Bank.
Israel has accused Nabulsi of leading a cell which carried out a spate of attacks against Israelis in the West Bank.
Tuesday's raid saw Israeli troops use shoulder-launched rockets on the Nablus house in order to force Nabulsi out.
The exchange of gunfire at the house - and elsewhere in the city - resulted in the large number of Palestinian injuries. Four people were critically wounded.
Israeli troops suffered no casualties.
According to Israeli media, al-Aqsa Martyrs' Brigades have co-operated with Palestinian Islamic Jihad (PIJ) in launching a number of attacks targeting Israelis in the West Bank.
Israeli troops have carried out several raids in the West Bank recently, mainly to arrest PIJ militants.
It was the arrest last week of Bassem Saadi, said to be the top PIJ figure in the West Bank, which led to the pre-emptive Israeli air strikes on PIJ militants in the Gaza Strip over the weekend that resulted in the deaths of at least 44 Palestinians - including two top militant commanders.
The militants launched hundreds of rockets from Gaza, with longer-range ones targeting Tel Aviv and Jerusalem. The Iron Dome air defence system helped prevent Israeli casualties.
A ceasefire mediated by Egypt after three days of fighting entered into force on Sunday.
The violence in the occupied Palestinian Territories keeps on increasing - 129 Palestinians have now been killed by Israeli fire since the beginning of this year.
Israel calls it "counterterrorism activity", and says it is essential to protect its people from attacks. But there is criticism over the number of Palestinians who are killed and injured during these operations.
Israeli forces spent more than a year pursuing Ibrahim al-Nabulsi. Popular among young Palestinians and with a big TikTok following, he was accused of carrying out shooting attacks on IDF soldiers and civilians. More than once they got close to killing or capturing the 26-year-old, but each time he managed to escape and survive. That made him a significant target.
As pictures of al-Nabulsi's body wrapped in a Palestinian flag circulated on social media, there were clashes in Ramallah and Hebron, fuelled by the latest Israeli raid.
In Bethlehem, a general strike was called.
Frustrated by the Palestinian Authority's ailing leadership and desperate for change, huge chanting crowds gathered in the streets to protest against yet another death.