Palestinian gunman wounds eight in Jerusalem attack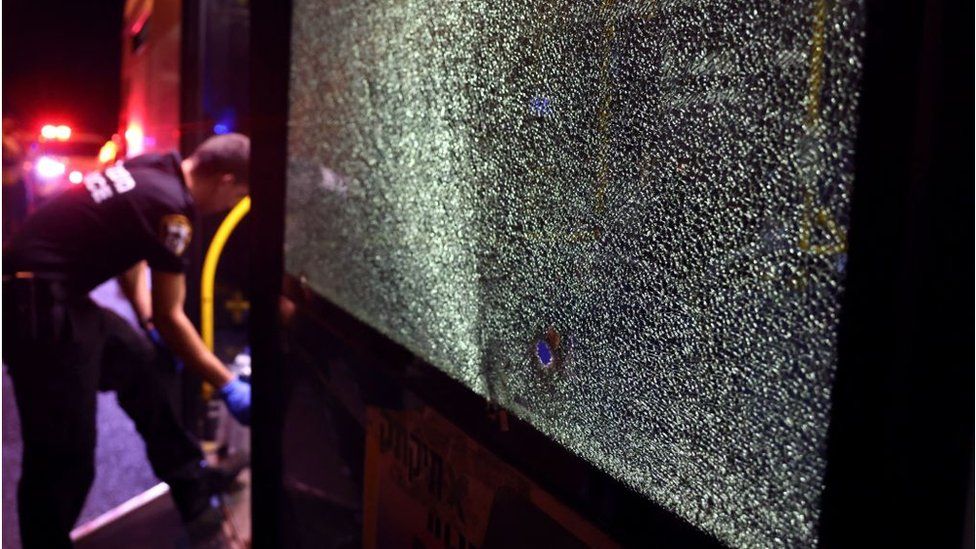 Eight people have been wounded after a Palestinian gunman opened fire at two locations in Jerusalem, officials say.
The assailant targeted a bus carrying Jewish worshippers who had just prayed at the Western Wall as well as people in a car park near the holy site.
Two of the wounded are in a serious condition, including a pregnant woman. US citizens were among the victims.
The gunman, identified as a resident of occupied East Jerusalem, fled the scene but later turned himself in.
Israeli police said he had a criminal record but no known affiliations with Palestinian militant groups.
They believe that he acted alone, but they are concerned that he might inspire copycat attacks.
The driver of the bus targeted by the gunman said it had been full of passengers coming from the Western Wall, the holiest place where Jews are allowed to pray, when it stopped at the Tomb of David station in the early hours of Sunday.
"We opened the ramp for someone on a wheelchair, and then the shooting started," Daniel Kanievsky told Israel's Kan radio.
"Everyone got down on the floor, screaming. I tried to escape, but the bus couldn't drive with the ramp open."
The pregnant woman was shot in the stomach and had to have an emergency Caesarean section at Jerusalem's Shaarei Tsedek Hospital. A hospital spokesman told AFP news agency that the woman was in a serious condition and that her baby was in a serious but stable condition.
Local media reported that the wounded also included four members of a family from New York who were waiting for a taxi at the bus stop. The father was said to have suffered wounds to the head and neck and was in a serious condition in hospital.
US ambassador Tom Nides confirmed that US citizens were among the victims and said he strongly condemned the attack.
Israeli police said that after a manhunt that lasted several hours the suspected attacker turned himself in along with the pistol he apparently used.
Israeli media identified him as Amir Sidawi, a 26-year-old from East Jerusalem's Silwan district, and reported that he took a taxi to the Moriah police station, where he surrendered.
Israeli Prime Minister Yair Lapid told a cabinet meeting: "There is one conclusion from this incident, as from previous incidents: Whoever harms Israeli citizens has nowhere to hide. We will pursue them, find them wherever they are, and deal with them to the fullest extent of the law."
Mr Lapid said security in Jerusalem was being reinforced significantly in order to prevent copycat attacks.
Palestinian militant groups praised the shooting, which came a week after the latest violent escalation in the Gaza Strip.
At least 47 people were killed in Gaza over three days as Israeli forces targeted leaders of the Palestinian Islamic Jihad (PIJ) and militants fired more than 1,000 rockets into Israel.
Gaza's health ministry said 35 civilians were killed, including 17 children, while PIJ said it lost 12 fighters.
Several Israelis sustained minor injuries as a result of PIJ rockets that landed inside Israel.