Darayya massacre: 'You can't imagine how terrified we were'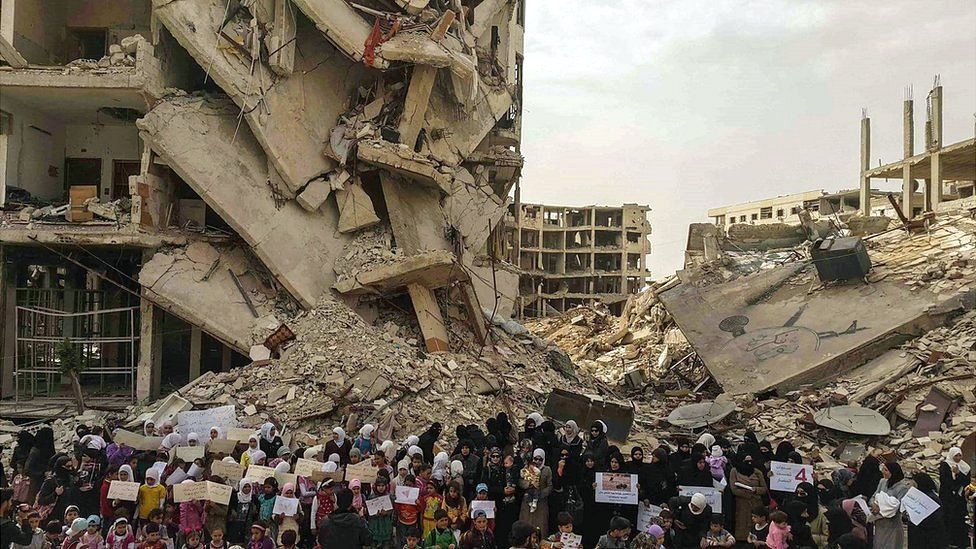 In the days before the killings in late August 2012, the Syrian town of Darayya - on the doorstep of the capital Damascus - came under intense bombardment.
This was not unexpected. Its residents were known for their opposition to President Bashar al-Assad since the beginning of the Syrian conflict in 2011.
Yet resident Tarek Jabir could not relax when the shelling finally gave way to an eerie silence.
"When the mortars stop, we know something will happen," he tells me.
Mr Jabir, who says he had witnessed attacks by the Syrian military in other towns, recognised the signs.
"We noticed that the mobile network was cut and also the many checkpoints that surrounded the city."
Troops reportedly began going from house to house, telling people they were looking for "terrorists".
While Darayya did have armed fighters opposed to the regime, eyewitnesses say it soon became clear that this operation was principally targeting civilians.
Syrian state media said at the time that the army "cleansed" Darayya of "terrorist remnants". The government has also repeatedly rejected allegations that its forces have carried out extrajudicial killings and other atrocities.
Lawyer Dr Yasmine Nahlawi has led an investigation by the Syrian British Consortium, a UK-based advocacy group, into what happened.
"The over 700 people who were killed included 63 children and 36 women. Also, among the men rounded up and executed, some were in their pyjamas and slippers," she says. "These were not military targets, this was an attack directed against civilians."
Local activists say most armed opposition fighters from the Free Syrian Army had left the town days before the massacre began on 24 August, allegedly in an effort to draw fire away from civilians.
Meidyn (not his real name), was 19 at the time and says he witnessed things unfold. He says Syrian government soldiers were entering houses and removing any young people they found. Many, he adds, were then killed summarily. He and his closest friend tried to avoid being spotted.
"We were hiding in a place under the ground. You can't imagine how terrified we were. There was nothing between us and death."
Soon afterwards, survivors posted photos and videos online of what appeared to be mass graves full of civilians, but these were hard to verify at the time. Estimates of the number of people killed varied widely, from 100 to more than 500.
Dr Nahlawi's team has concluded that at least 700 were killed, after talking to local activists who kept detailed records of the dead, as well as the disappeared and detained.
"They also had them broken down by age, by gender and where the person was detained from. And of the 700 bodies buried in Darayya, 514 were documented by name," she says.
Some eyewitnesses questioned by the investigators reported seeing members of Iranian militia groups and fighters belonging to the Lebanese militant group Hezbollah among the Syrian government forces that carried out the massacre. They came to this conclusion after seeing the insignia on the fighters' uniforms as well as from listening to their accents.
The massacre ended on 26 August, as pro-Assad forces pulled out of Darayya, a town where some peace activists had initially given flowers and bottled water to government troops.
But one horror was soon to be replaced by another: nearly four years of siege and bombardment.
Dr Nahlawi accepts there is little chance of the Syrian British Consortium's report finally holding President Assad and his allies to account, but she insists it is essential to keep trying.
"When you let a perpetrator get away with the crimes they commit, not only are you sending a signal that this is OK or that it can go unpunished, but you're also paving the way for atrocities to be committed. And this is certainly what we've seen in Ukraine."
For the survivors of this atrocity, finding justice is more personal. They fear that without justice it will be impossible to restore their peace of mind. Over time they believe the outside world will forget about this massacre, something none of them are ever likely to do.