Iraq: Tense calm in Baghdad after cleric issues appeal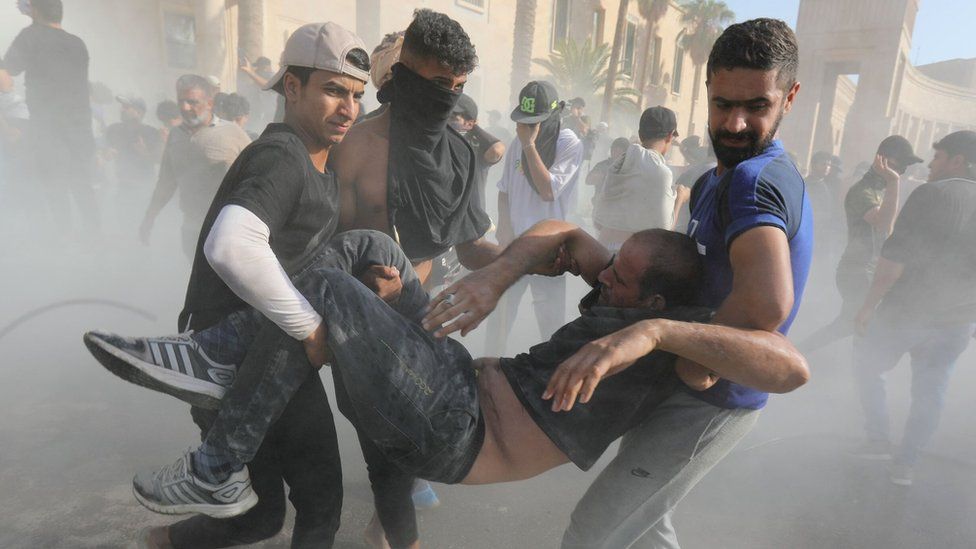 The deadly fighting in Iraq's capital appears to have subsided, after the figure at the centre of the crisis told his supporters to end their protests.
Hundreds of people who had been camped outside parliament in Baghdad for weeks dispersed as instructed by influential Shia Muslim cleric Moqtada al-Sadr.
On Monday, at least 23 of his followers were killed in clashes with security forces and militias aligned with Iran.
The violence erupted after Mr Sadr said he was withdrawing from political life.
His announcement followed months of deadlock over the formation of a new government. Observers said Mr Sadr's move might be tactical, having declared his political retirement more than once before.
Mr Sadr's bloc won the most seats in elections last October but he would not agree to a coalition with the second largest bloc, comprised mainly of rival, Iran-backed Shia parties.
Once an Iranian ally, Mr Sadr has repositioned himself as a nationalist wanting to end US and Iranian influence over Iraq's internal affairs.
Iraq's unstable politics: The basics
Iraq has had years of turmoil: It has suffered instability and seen the growth of powerful armed groups since 2003, when dictator Saddam Hussein was overthrown by a US-led invasion.
Ordinary life is hard: The country is rich in oil but many Iraqis suffer from high unemployment, corruption and a lack of basic services, with successive governments held to blame.
Iraq has internal tensions: Its Shia Arab majority became politically powerful after 2003, breeding resentment among Iraq's Sunni Arabs, Kurds and other minority communities.
Monday's violence came after weeks of soaring tensions, during which his supporters stormed parliament twice.
When Mr Sadr tweeted his retirement from politics, protesters burst into government buildings inside the so-called Green Zone, a heavily fortified area in central Baghdad.
Shots were fired by supporters of a rival Shia bloc, witnesses said, unleashing some of the worst violence in Baghdad for years. Automatic gun- and rocket-fire rang out, with security forces trying to quell the fighting.
On Tuesday morning, Mr Sadr ordered his supporters to withdraw and apologised to the Iraqi people for the bloodshed.
"This revolution, as long as it is marred by violence, is not a revolution," he said in a televised address.
Moments later, hundreds of his supporters began leaving the Green Zone and a nationwide curfew was lifted by the military.
Moqtada al-Sadr, 48, has millions of followers and is seen by many as a figurehead against endemic corruption, poverty and high unemployment which plagues ordinary Iraqis.