Influential Sunni Muslim cleric Yusuf al-Qaradawi dies aged 96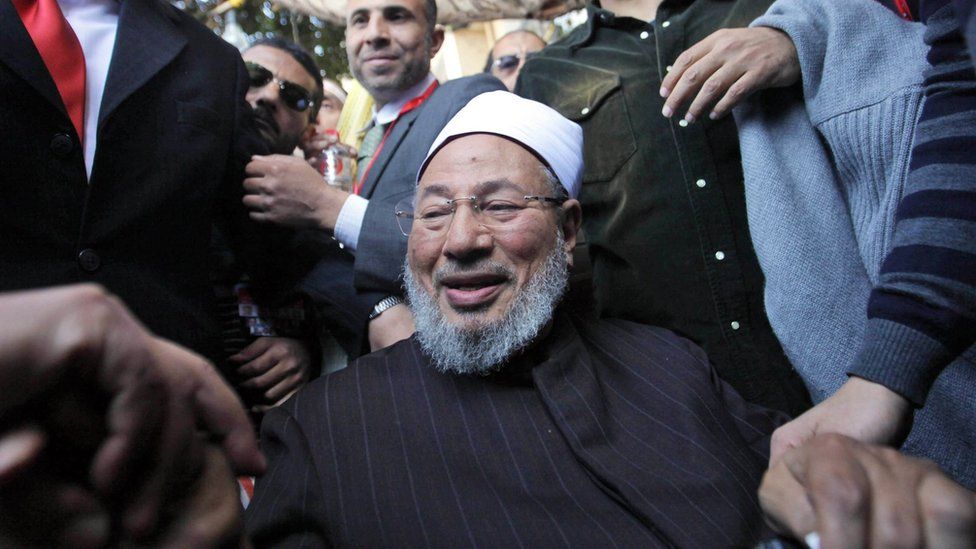 The influential Egyptian Sunni Muslim cleric Yusuf Al-Qaradawi has died aged 96 in Qatar, his website says.
Qaradawi founded the International Union of Muslim Scholars and was seen as a spiritual leader of the Muslim Brotherhood, an Islamist movement.
For many years, he had a religious phone-in show on Al Jazeera TV that was watched by tens of millions.
Qaradawi's supporters described him as a moderate, but some Western and Gulf states branded him an extremist.
He condemned the 9/11 attacks in the United States by jihadist militants from al-Qaeda and backed the pro-democracy uprisings against the leaders of Egypt, Libya and Syria during the Arab Spring.
But he also called on Muslims to fight Americans in Iraq following the 2003 invasion and claimed that Islam justified Palestinian suicide bomb attacks against Israelis during the second Palestinian intifada that began in 2000.
In an interview with the BBC in 2004, he said: "I consider this type of martyrdom operation as an indication of the justice of Allah Almighty."
Qaradawi's ties with the outlawed Muslim Brotherhood and his criticism of Egypt's leaders resulted in him being imprisoned several times in the country before he moved to Qatar in 1961 and began a self-imposed exile.
He did not return to Egypt until 2011, when a popular uprising ousted long-time President Hosni Mubarak.
Qaradawi, who had supported the protesters in his TV broadcasts and issued an edict forbidding security personnel from opening fire on them, led Friday prayers for hundreds of thousands of people in Tahrir Square a week after Mubarak's resignation.
"Don't let anyone steal this revolution from you - those hypocrites who will put on a new face that suits them," he warned the crowd.
He was forced again into exile in 2013, when the military overthrew Mubarak's democratically elected successor Mohammed Morsi, a leader of the Muslim Brotherhood, following mass protests against his rule.
Qaradawi denounced what he called a "coup" and urged all groups in Egyptian to "restore [Morsi] to his legitimate post".
In 2015, a court in Egypt sentenced Qaradawi and dozens of other people to death in absentia over a mass prison break during the 2011 uprising. He dismissed the verdict as "nonsense".
The governments of Egypt, Saudi Arabia, Bahrain and the United Arab Emirates also accused Qaradawi of terrorism in 2017 as part of their justification for imposing a de facto blockade on Qatar. The cleric said he rejected terrorism and Qatar refused to extradite him.