Iran protests: Security forces crack down on Tehran university students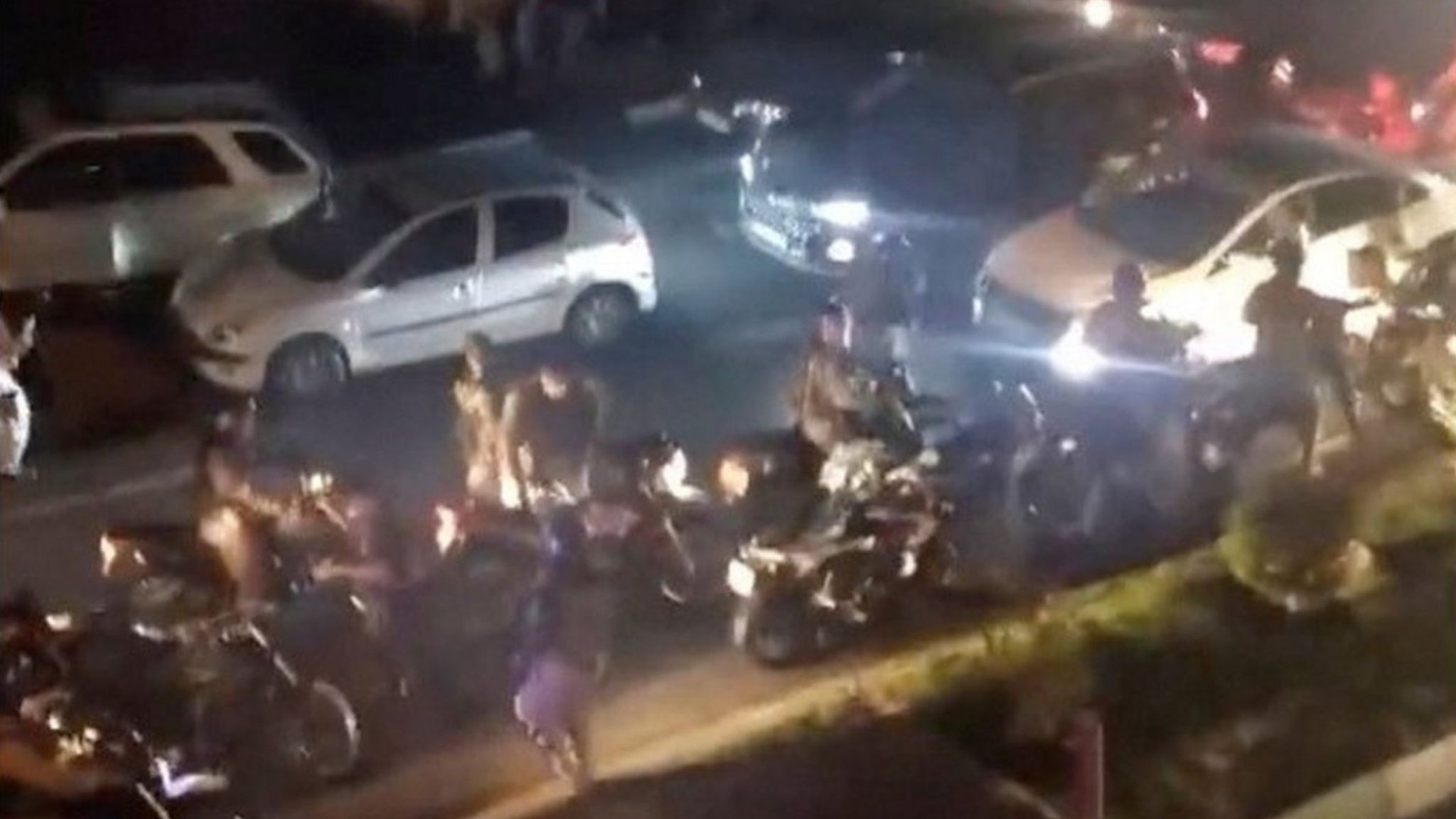 Iranian police have cracked down on students at a prestigious university in Tehran, as anti-government protests continue to sweep the country.
Reports said a large number of students at Sharif University of Technology were trapped in a car park that had been surrounded by security personnel.
One video appeared to show students running away as gunshots ring out.
In his first public comments, Supreme Leader Ayatollah Ali Khamenei described Mahsa Amini's death as a "bitter incident" that "deeply broke my heart".
But he denounced the nationwide protests as "riots" that he claimed had been "planned" by the United States and Israel, "as well as their paid agents, with the help of some traitorous Iranians abroad".
Ms Amini, a 22-year-old Kurdish woman, fell into a coma hours after officers in the capital accused her of breaking the strict law requiring women to cover their hair with a hijab, or headscarf. She died in hospital three days later.
Her family alleges that officers beat her head with a baton and banged her head against one of their vehicles. The police have said there is no evidence of any mistreatment and that she suffered "sudden heart failure".
Protests started at her funeral and have spread across the country to become the worst unrest seen in the country for years.
Sunday was the first day of term for first-year students attending Sharif University of Technology.
The semi-official Mehr news agency reported that about 200 students gathered at the campus on Sunday afternoon and began chanting slogans including "woman, life, freedom" and "students prefer death to humiliation". As the demonstration continued, the slogans became more radical and directed against the clerical establishment, it said.
The violence erupted in the late afternoon, when security forces arrived at the campus. Mehr reported that security personnel fired tear gas and paintballs, causing some of the students to flee to one of the university's car parks.
In one video posted on social media, a group of people are seen trying to escape through a car park while being pursued by security forces on motorbikes.
Reports said a number of students were beaten or shot with pullet guns, and that 30 to 40 were arrested.
The state news agency, Irna, reported that calm was restored after Science Minister Mohammad Ali Zulfigol travelled to the campus to speak with the students and security forces.
Mehr said classes at the university were suspended on Monday and moved online "due to recent events and the need to protect students".
The last two nights have seen an escalation in protests in Tehran and many other cities, despite a growing death toll.
Authorities have promised to come down hard on "rioters", who they say have been put up to it by Iran's foreign enemies.