Lebanon crisis: The Syrian refugees recycling to stay alive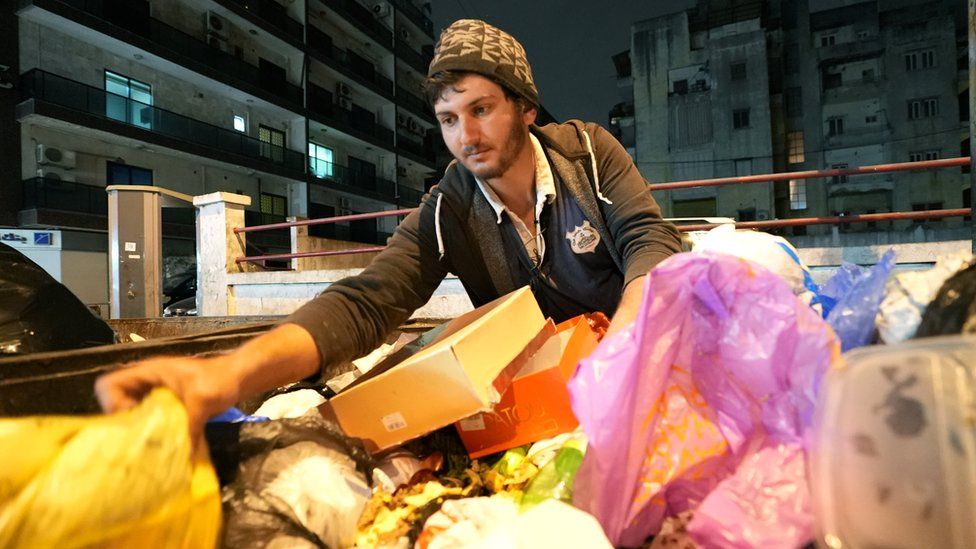 Deiri Fayyad rummages through dustbins in the Lebanese capital Beirut in search of plastics and other discarded materials to be recycled. It is poorly paid work, but the father of three has little option if he is to feed his family.
"I start early morning at 8:30 and work for over 12 hours," he says, as he continues looking through the waste.
With bare hands and no protective clothing, Deiri pushes his body deep inside the bin, opening plastic rubbish bags to see what he can find. He makes about 250,000 Lebanese pounds ($2; £1.63) a day.
The 26-year-old from Raqqa is among about one million Syrians to have sought refuge in neighbouring Lebanon, 12 years on from the start of his country's brutal civil war.
Lebanon, meanwhile, has been crippled by economic and political crises for nearly four years. Hundreds of thousands of Lebanese are now living in poverty, with many struggling to afford food and medicine.
In 2019 the government defaulted on its foreign debts and the country's currency collapsed. In March this year, it tumbled to an all-time low of around 110,000 Lebanese pounds to one US dollar - effectively losing almost all of its value since 2019.
But while nearly everyone in Lebanon is feeling the pinch, Syrians here are at the bottom of the poverty ladder.
Many refugees - including children as young as 11 - have taken up recycling rubbish in efforts to feed themselves.
While there are NGOs encouraging recycling in Beirut, it is not common practice, and waste management businesses have been set up to process plastics that can be used to manufacture commercial and agricultural products, for example.
Deiri is filling his large plastic bag with empty water bottles. As I stand and watch nearby, the foul smell is making it difficult to breathe, and I am amazed how he keeps going - with a smile on his face.
Working long hours, Deiri spends some of his spare time with the local cat, Amber, whom he feeds any leftover food he finds in the bins.
Deiri, his wife Yamama, and their children live in a room in an apartment they share with two other families, not far from the popular seaside boulevard where he collects plastic. Most of what Deiri makes a month goes on rent.
The room is small, with just one light, a plastic floor covering, and some mattresses set aside. They have bottles of water on the balcony to wash with and a small gas cooker.
The moment he arrives home, Deiri hugs his children tight.
"I can't afford to send my kids to school, or to give them a good life. We are hardly getting by, but it's better than humiliating myself begging on the street."
Many of Deiri's fellow workers are also from Raqqa in northern Syria. They escaped the war and the militant Islamic State group, but in Lebanon, life is hard, and this is the only job they could secure.
In recent years, and due to financial crises, the workers coming here from Bangladesh who were paid in US dollars have been replaced with Syrians who receive very little - and in local currency - for such work.
At one of the dumping sites, where plastic and other rubbish is recycled and stored before being sold, the smell is difficult to describe - it is suffocating and hard to imagine that workers are exposed to this daily, without any apparent hygiene measures in place.
A building above the rubbish dump is now home to several men, all from Raqqa. They are too scared to talk, too scared to be interviewed. They say they fear being deported back to Syria.
Similar such buildings are scattered around the city, where around 15 to 20 men cram together in poorly equipped flats to share the costs.
At the end of each shift, Deiri and fellow workers gather their daily findings of plastic in a dedicated lot or hand it over to a Lebanese manager at one of the centres, who weighs their bags before paying them.
Like many others in the country, Syrian or Lebanese, Deiri is desperate to leave. As his hope to return to a safe Syria fades, he longs for a new life somewhere away from here.
"The dream is Europe… but the reality is this," he says. "I hope God can help us and we can leave. All I want is to give my children a better life and get them some education."