Iran protests: Mahsa Amini's grave attacked by vandals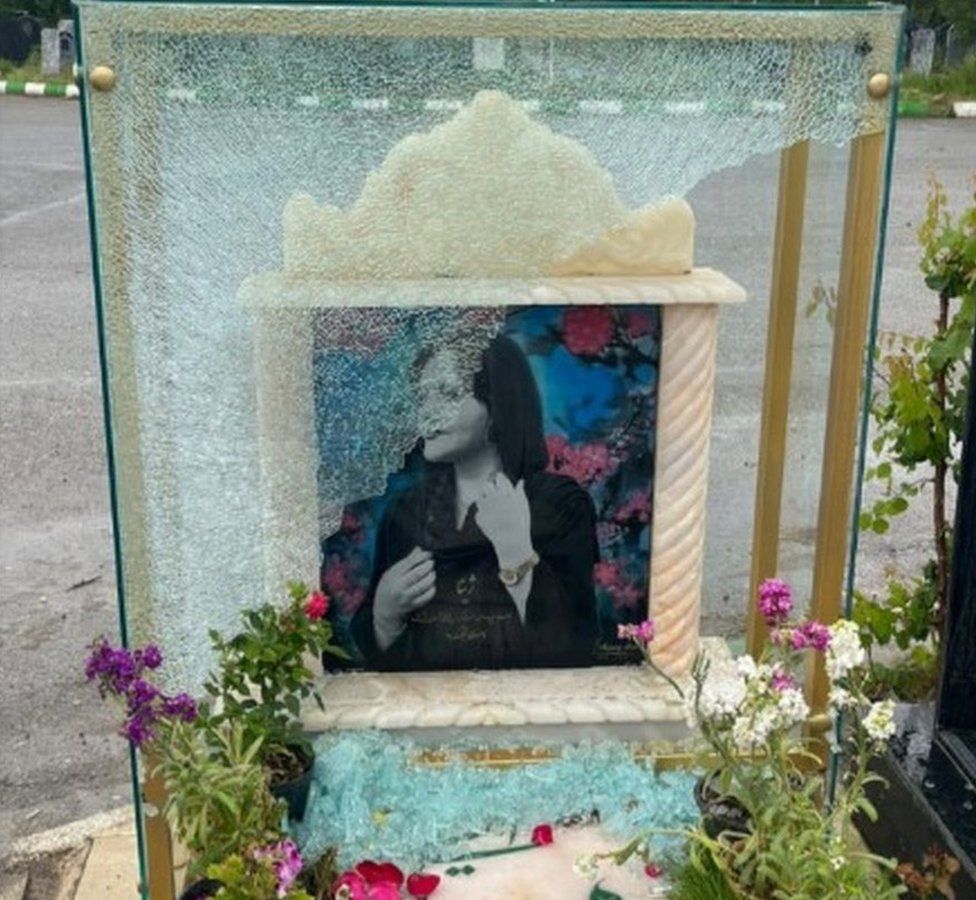 Vandals have attacked the grave of Mahsa Amini, the young woman whose death in custody last September sparked anti-government protests across Iran.
Photos from her family showed a pane of glass covering her tombstone and portrait was smashed at Aichi cemetery in the western city of Saqqez.
"Even the glass of your tombstone bothers them," Ashkan Amini wrote, without directly blaming anyone.
He vowed: "No matter how many times they break it, we will fix it. Let's see who gets tired first."
He also said Mahsa's father had told him that authorities obstructed the installation of a protective canopy over the grave by threatening a local welder that his business would be shut down if he carried out the work.
Mahsa died in hospital in Tehran on 16 September, three days after she was detained by morality police in the capital for allegedly violating Iran's strict rules requiring women to cover their hair with a hijab, or headscarf.
Witnesses said the 22-year-old Kurd was beaten while in custody, but authorities denied she was mistreated and instead blamed "sudden heart failure" for her death.
The first protests took place after her funeral in her hometown of Saqqez, when women ripped off their headscarves in solidarity.
They spread rapidly across the country and evolved into one of the most serious challenges to the Islamic Republic since the 1979 revolution.
Hundreds of people have been killed and thousands more have been detained in a violent crackdown by security forces, which have portrayed the protests as foreign-instigated "riots".
Seven protesters have also been executed since December following what a UN expert has called "arbitrary, summary and sham trials marred by torture allegations". Dozens more have reportedly been sentenced to death or charged with capital offences.
Last week, authorities in the central city of Isfahan hanged three men found guilty of "enmity against God" over their alleged involvement in a shooting attack that killed three security personnel during protests in November.
Sources told Amnesty International that Majid Kazemi, Saleh Mirhashemi and Saeed Yaqoubi were forcibly disappeared, then tortured and forced to make incriminating statements that formed the basis of the cases against them.
Human rights groups are now expressing alarm at an announcement on Monday by prosecutors in the southern province of Fars that said two Afghan men, Mohammad Ramez Rashidi and Naeim Hashem Ghotali, would be publicly executed soon.