Working Lives Mexico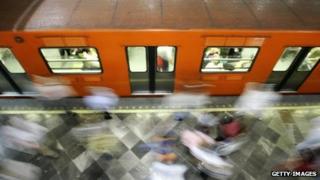 Mexico is a country of striking contrasts.
From a man who makes a living from what he can salvage from Mexico City's rubbish to one of the richest men in the world, Working Lives Mexico meets six characters who epitomise the country's mix of rich and poor, and how different lives can be in Latin America's second-biggest economy.
Israel Baeza earns a living recycling glass and paper he can find in the rubbish. Alejandro Toral is a taxi driver who just a couple of years back was working in one of the biggest banks in Mexico.
Hugo Stevens runs a successful internet-based business, launching websites which - he hopes - will become the next big things in Mexico. Multi-millionaire entrepreneur Jorge Vergara has already made his mark in the business world, running a successful vitamin supplements company, and as owner of the biggest football club in Mexico.
Petra Lopez is part of the street life in Mexico City, bringing in an income by looking after parked cars for tips. And Princess Sujei is one of the country's biggest stars in the world of female wrestling.
They all form part of the fabric of this extraordinary country, and their stories tell us a great deal about Mexico and the direction it's taking.