Working Lives: Vancouver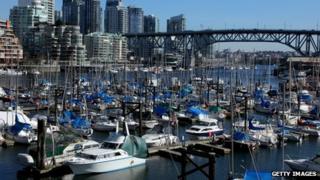 Vancouver has a reputation as one of the most livable cities in the world.
Located on Canada's Pacific coast, it boasts access to the great outdoors few cities can match, while its port is Canada's biggest, and its bustling commerce includes a thriving Chinese community.
Chip Wilson is the billionaire founder of yoga clothing giant Lululemon and takes business meetings while hiking punishing trails - living a successful life in this outdoors-centric city.
JP Mass is a prosthetics technician in Vancouver's bustling film industry who explodes bodies and knows how to mix the perfect fake blood. As computers threaten his work, he's fighting to keep a steady job.
Lauren Edgar is a salmon farmer who works long hours far from home on a floating house in the waters around British Columbia.
Shawn Sly builds the ships which transport the fish Ms Edgar raises but still struggles to find affordable housing in Canada's most expensive city.
Hong Kong immigrant Terry Yung has worked as an undercover police officer. Now he patrols the streets in Canada's poorest neighbourhood, hoping to make his adopted home safer.
These are just some of the stories revealed to us through five characters and their daily working lives. What do these stories tell us about Vancouver today?