Viewpoint: Canada's green image tarnished by new policies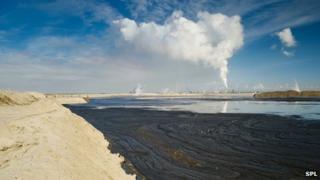 Canada's decision last year to walk out of the Kyoto Protocol caused concern around the world.
To those outside environmental circles, the move seemed puzzlingly out of character. After all, in the popular imagination, this is a country of virgin forests and pristine lakes, home of Jack London's White Fang, not to mention the birthplace of Greenpeace.
Quite simply, Canada was not supposed to act like this.
The move, of course, came as no surprise to those familiar with Alberta's tar sands boom - the sands saturated with a dense form of petroleum which can be extracted and used as fuel.
Under the Conservative government of Stephen Harper, the Kyoto Protocol had become an impediment to growth of the multi-billion-dollar industry, which generates higher greenhouse gas emissions than conventional pumping from oil wells.
Rush for riches
The retreat from Kyoto may only have been the beginning of Canada's environmental about-turn. The country is currently preparing to capitalise on its treasure trove of resources, which include hydro-power, natural gas, timber, coal, potash, iron ore, lithium, gold and much more.
With global warming freeing the Arctic shipping routes, this vast mineral wealth will flow eastwards to feed the burgeoning appetites of the world's developing economies.
The country is in a hurry. As Canada's natural resources minister Joe Oliver said at a Toronto press conference last month, it's time to "seize the moment".
"These opportunities won't last forever," he added.
David Suzuki, a scientist and one of the country's foremost voices on the environment, fears Canada is about to commit ecological "suicide".
Pipeline flashpoint
"The warming that has been going on in the Arctic is undeniable," he says. "But, what Mr Harper is seeing is all this economic activity, that we'll be able to mine more resources and ship them through the Northern Passage. The ecological implications of all that are just monumental."
His criticisms come as the Conservative government, re-elected with a majority in 2011, embarks on a sweeping review of environmental laws. The most controversial proposals would speed up assessments, limit public participation in hearings and give the cabinet powers to override regulators on major projects. Other reforms would water down laws on the protection of fish habitats and endangered species.
Environmentalists are alarmed by the proposals, which they say have been bundled into an obscure budget bill that is being fast-tracked through parliament. "It's not illegal, but it's devious," says Elizabeth May, leader of the opposition Green Party. "It's all about massive resource development, intentionally designed to grease the wheels of the tar sands industry."
The new rules could affect projects currently under review, such as the proposed Northern Gateway oil pipeline, which will transport bitumen from Alberta to British Columbia for shipping to Asia. Like the unpopular Keystone XL pipeline, which was rejected by US President Barack Obama earlier this year, Northern Gateway has become a flashpoint for tar sands opponents, including native groups who fear spills on their territory.
Their opposition prompted Mr Oliver to write an open letter to Canadians this year, attacking groups threatening to "hijack our regulatory system to achieve their radical ideological agenda". Moreover, he accused groups of receiving foreign funding to undermine Canada's national interests, attracting "jet-setting celebrities" to "lecture Canadians". Environment Minister Peter Kent later accused charities of laundering foreign money.
The government's salvoes led to accusations of a smear campaign against activist groups. Simon Dyer, policy director at the Pembina Institute, an environmental think tank which also advises government and industry, thinks the debate has become irreparably polarised. "Right now, you're either for or against development," he says.
There has been progress on some fronts, such as the Canadian Boreal Forest Agreement, which promotes sustainable logging. But, in other areas, such as the protection of woodland caribou, there is still far to go.
Mr Dyer laments what he calls the government's laissez-faire attitude to tar sands. Since Mr Harper's arrival in office, despite repeated promises, there has been no progress on regulating emissions from the industry.
Meanwhile, oil production is expected to nearly double, to almost four million barrels a day by 2021. "The federal government just hasn't been minding the stall, letting many tar sands projects to go ahead at the same time," he says.
Liberal MP Stephane Dion, a former environment minister and party leader, worked hard to place green issues at the top of the country's political agenda. But, his proposals for a carbon tax were rejected in the 2008 federal election.
"I don't see the opportunity for meaningful change in Canada in the short-term," he says. "If you allow people in the oil industry to have less regulation, they will not protest and that's what this government is willing to do."
Mr Harper is nothing if not consistent. In 2002, in a letter written when he was leader of the now defunct Canadian Alliance party, he described the Kyoto Protocol as "a socialist scheme to suck money out of wealth-producing nations."
Describing his campaign as the "battle of Kyoto", he vowed to block the "job-killing, economy-destroying … accord". As leader of the country, he has remained true to his word.
Canadians are largely in favour of the tar sands industry, though attitudes vary across the country. According to an Ipsos Reid survey conducted in April 2012, two-thirds of respondents believed it would be possible to increase oil and gas production while protecting the environment at the same time.
Mr Suzuki maintains his fellow countrymen care deeply about the environment. "Canadians are not where Mr Harper is," he says. "We place a high value on nature as a part of who we are as a country."
"It is something that is deeply embedded in the Canadian psyche."
Lorraine Mallinder is a freelance journalist based in Montreal.