Working Lives: Rio de Janeiro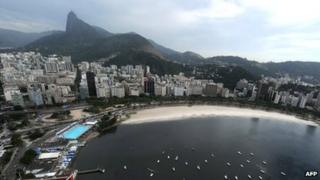 Rio de Janeiro is Brazil's second largest city; it is the former Brazilian capital and the hub for many businesses, from the oil industry to television soap opera productions.
The 2014 World Cup and the 2016 Olympics are coming to the city soon and already there is a rising sense of optimism about the economic opportunities those big events will bring.
The music and cultural scene is thriving and foreign investment in the city is skyrocketing. Though the cost of living is also rising, many cariocas, as the people of Rio are called, say they would not live anywhere else.
Working Lives travelled to Rio de Janeiro to profile six very different people who call the city home.
Rosane Josende is a flight attendant for Brazil's biggest budget airline, while Junior de Oliveira is a samba musician with strong family ties to the profession.
Fred d'Orey designs fashionable beachwear but got his start as a professional surfer.
Camila Pitanga is an actress who travels more than an hour across town every day to her film set, while Damiao Aranha is a doorman who has worked for 55 years in the same building.
Ronaldo Correia, known as Panela for the pots and pans he fixes, is a beach vendor who does many odd jobs to make ends meet - and now has decided to run for city council.