Brazil's struggle to cut deaths on chaotic roads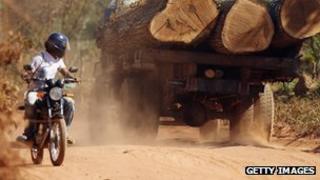 Up to 40,000 people a year die on Brazil's roads - a toll blamed on poor driving conditions, inexperienced motorists and high levels of drink-driving. Campaigners, including families of some victims, are fighting to bring down that toll.
Fernando Diniz will never forget the night, in 2003, when he called his son's mobile phone and a police officer answered saying there had been a "very serious car crash".
When the Brazilian engineer reached the accident site he found his 20-year-old son's body lying in the road. He had been a passenger in a car which hit an electricity pole and overturned.
"This is the worst pain a human being can be confronted with," Mr Diniz says. Two 18-year-old girls also in the car had died alongside his son, more statistics in Brazil's grim tally of road deaths.
After his son's death, Mr Diniz started finding and offering support to families with tragic stories similar to his own.
In 2009, Brazil ranked eight in the World Health Organisation's list of road deaths by country. In 2010, 42,844 died from road accidents, according to Brazil's Ministry of Health - an increase of 21% from 2006.
"In almost all cases," says Mr Diniz, "the main feeling of victim's parents is the hate against the driver who caused the accident.
"I've grown used to dissuading them from seeking their own kind of justice."
Mr Diniz created the pressure group Friendly Traffic and started lobbying Brazil's congress for tougher laws to punish those who drive over the alcohol limit.
They aim to prevent the kind of accident which killed 25-year-old Marcos Aurelio Menarbini Pereira, in Sao Paulo state in August 2005.
Mr Pereira's motorcycle was hit by a car whose driver had been drinking and was taking part in a street race.
The case is an example of an issue which still divides Brazilian judicial opinion: should accidents caused by drivers over the alcohol limit be considered intentional crimes?
"The driver who killed Mr Pereira assumed the risk of killing when he drank and decided to engage in a street race," says public prosecutor Jose Heitor dos Santos.
"He was sentenced to 14 years in prison."
Investment urged
Brazil introduced a zero-tolerance law in 2008 for drivers found to have any traceable amounts of alcohol in their blood.
Yet drivers involved in traffic accidents can still receive softer sentences, such as being made to donate money to charity, as their crimes are often not considered to have been deliberate.
Specialists agree that a tough law alone does not prevent accidents.
They say it would be better to invest in law enforcement, road safety education and improving roads.
"Brazilian law enforcement is insufficient, there aren't enough officers. This undermines the impact of legislation," says Sergio Ejzemberg, a Brazilian engineer and transport expert.
Philip Gold, another traffic specialist, says the government needs to improve road signs, poor-quality roads and poorly designed motorways.
He also says educating drivers is vital.
"We must change people's minds about drink-driving. Their priority must be safety, not only avoiding penalties."
Another issue is access to specialist emergency services, currently only available in larger cities.
Alexandre Padilha, Brazil's minister of health, says the government will spend R$720m ($352m; £217m) in the next two years on improving access to emergency services in rural areas.
The government also plans to publish new guidelines for the treatment of casualties, and to improve medical facilities.
"The number of road traffic deaths has increased, especially in the north and northeast of the country and in small country villages," says Mr Padilha.
"It is connected to the growing number of vehicles on our roads, especially the number of motorbikes."
In a country where the middle class has been growing alongside the economic boom, the number of motorbikes increased from 5m to 16m in the past 10 years. At the same time, the number of cars rose from 23m to 41m, according to government figures.
Inexperienced drivers
Mr Ejzemberg agrees more motorcyclists with little road experience have contributed to the rise in accidents.
"There are more people buying motorbikes because of failings in the public transportation system," he says.
The scale of Brazil's problem is illustrated by research from the University of Sao Paulo (USP) comparing the number of road accident casualties here with those of developed countries.
Researchers compared the number of cars on the road and their total mileage.
Brazil had a ratio of 54.8 fatal victims for each 1bn kms (625m miles) travelled in 2010. In the UK, the total was 3.6 and in Sweden, only 3.2.
"Developed countries invest more resources in traffic safety," says researcher Jorge Tiago Bastos.
The debate is important, but of little comfort for the families already devastated by such accidents.
Sandra Menarbini, Mr Pereira's sister, says her brother used to take care of their mother.
"She had no health problems, but two weeks after he died, she had her first heart attack," she says. "Now she is always sick.
My family was totally thrown into turmoil."