Working Lives: Kenya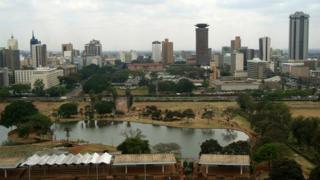 Kenya is a country of entrepreneurs.
And the capital Nairobi is where many Kenyans come looking for opportunities. It's the commercial heart of east Africa, and despite chronic poverty for many, there's a palpable sense of energy in the hustle and bustle of daily life.
Working Lives Kenya meets six people in very different social circumstances, but with a common desire to improve their lives.
For Wambui Gitonga, her decision to give up work and be a full time mum introduced her to a new career. The daily school run became a profitable business.
Gachao Kiuna is one of a new generation of Kenyan business entrepreneurs. He's responsible for investing millions of dollars in Kenya's infrastructure, with a vision to help boost Kenya's economic development.
Roseline Awino is one of hundreds of thousands living in Nairobi's slums. She's a cleaner, a cook and a shopkeeper, with several jobs needed just to get by.
Steve Okiri has to leave Nairobi during the week, travelling hours from home to work in a desolate place. It's where he found the best fit for his training as an industrial chemist.
A civil servant, Dr Edward Kariuki is no pen-pushing bureaucrat. His job as a vet with the Kenya Wildlife Service is unpredictable and rewarding, including operating on orphaned lions.
And for Fundi Frank, a fashion designer for pop stars with a phone in each hand, networking and socialising is a crucial part of promoting his brand.