Mozambique: The Bob Dylan link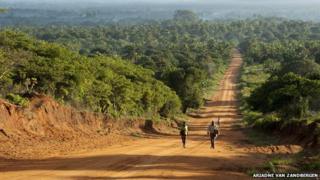 Sustainability expert Leo Johnson was always fascinated by development issues and as a young student spent several months in sub Saharan Africa. This included a brief visit to Mozambique during the country's civil war. Here he reflects on the changes after returning 20 years on.
We are coming down to land at Mozambique's Maputo airport and fragments of an old Bob Dylan song are playing my head.
"I like to spend some time in Mozambique….The sunny sky is aqua blue…And all the couples dancing cheek to cheek….It's very nice to stay a week or two."
By the time Dylan's "Mozambique" hit the airwaves in 1976, the situation on the ground was a long way off the lyrics.
Frelimo, the Front for the Liberation of Mozambique, had by 1974 won the war for independence over the Portuguese, and gone on to set up a revolutionary Marxist government.
Renamo rebels, backed by South African and Rhodesian governments that saw a Marxist Mozambique as a regional threat, were already massing in the countryside.
As Dylan's track climbed its way up to number 54 in the charts, the country was plunging towards its 16 years of civil war.
In December 1986, ten years on, I had caught a glimpse of Mozambique. The political situation was tense. Two months earlier, that October, the plane carrying Frelimo's President Samora Machel had crashed, in unexplained circumstances just outside South African airspace, killing Machel and most of the Frelimo leadership.
Time to get out
Aged nineteen and not too clued up, I had wandered in with a backpack over the open border from Malawi's M1 highway. I didn't stay long. Machel's "scientific socialism" had included Operação Produção, a controversial productivity drive that involved forced resettlement into the countryside and led to the collapse of local subsistence farming.
There wasn't a lot of dancing cheek to cheek. And there wasn't a lot to eat. And there was something in the looks I was getting that didn't seem quite right.
As dark came down I made the decision to get out. It wasn't a bad move. The Mozambican government was starting to accuse Malawi of letting Renamo rebels and South African advisers use Southern Malawi as a base for entering Northern Mozambique.
It would be another 6 years before the civil war that left a million dead and five million displaced came to an end.
That was a quarter of a century ago. Since peace in 1992, Mozambique's been on the up, with growth described as "remarkable" by the IMF and by the World Bank as "blistering".
So I'm thinking to myself it's all going to be different. The Mozambique I am going to see is going to be Dylan's. And to get my expectations even higher, we are headed for the Northern town of Quelimane, for the opening night of what is billed as the biggest carnival in Africa.
Biggest I cannot say. Least commercialised, I am prepared to put some money on.
Pregnant men, stomachs packed with straw, all clutching suitcases and walking hand in hand with their wives. Men in one-piece superman suits with padded crotches. Men in carved wooden masks with gaping electrified mouths that would light up red in the dark.
Donor darling
And beneath it all, a familiar pattern emerging. They call Quelimane "Pequeno Brasil" ("Little Brazil"), and the Portuguese influence, from the language to the food is clear, but the flow looks like it's two way.
From the glute-twitching Semba dance (allegedly spread by West African slaves to Brazil as Samba) to the cart-wheeling, expressive dance-meets-Kung Fu moves of Capoeira, what I realised I was seeing, in a pot-holed square, half-washed away by floods, was part of the source code for some cultural super-brands.
If Rio's Sambadrome, scene of "the greatest show on earth" is the giant, carnival oyster, Quelimane is some of the grit that made it all happen.
Which made the city, in the cold light of day the next morning, look all the sadder. Back in the 1970's, Quelimane, an agricultural town a quarter of a million strong, was the region's breadbasket. The city produced 40% of Mozambique's GDP, with an industrial port, railway, chic business hotel and theatre, complete with three private dressing rooms for the stars. Those days are long gone.
What I want to find out is why. Where's the logic? This is Mozambique, the darling of the donors, with a decade of stellar GDP growth behind it. How come, in this ordinary city, resource rich and not that far from the capital, growth isn't delivering on the ground?
Master class in disempowerment
It's in the fields and dirt roads outside the city that the answer begins to emerge.
Twenty ton trucks hurtle past Quelimane, taking Zambezia's hardwoods to China. A 2012 report estimates 48% of Mozambique's exports are illegally logged, its forest headed for extinction in a decade. An upturned fisherman's boat rots outside Krustamoz, the Chinese-owned shrimp processor that last year had to suspend production briefly because the nets were coming up empty.
So-called 'Coconut AIDS', spread by close packing the palms, has turned 70% of the trees into blackened stumps. Up in the north of the country, the ProSavana Programme, a collaboration between Mozambique, Brazil and Japan plans to turn over 14 million hectares in the Nacala Development Corridor to large-scale private agriculture.
Is this new? If you want a master class in disempowering a people, take the history of Quelimane: the slave trade, then 500 years of Portuguese occupation, a brutal war of independence, hard-line Marxist-Leninism and a civil war that left a million dead.
But what the people seem to have now is industrial extraction that's kicking away at their last prop, the land and resources they need to survive.
The province's resources are getting stripped. It's like the "disassembly lines" of the Chicago meat packers. Take what was once a prime haunch of beef, and cut away at it, over the decades, till all that's left is the carcass. Across the province 11.5% have Aids. Life expectancy is 38.
It's a pattern that looks set to continue. As well as coal, oil, and titanium, there's now gas coming on stream. The US energy firm Anadarko has confirmed deep water gas finds off the coast of Mozambique, with talk of up to $15 billion (£9.9bn) investment in the next five years.
Blood on the tracks
And there are ominous signs of the impact of this model of extraction on the country's political stability.
At the end of October 2012, Afonso Dhlakama, the Renamo leader and former civil war commander, decamped, along with 800 former Renamo combatants, to Dhlakama's remote former base near the Gorongossa Game Park.
Aged 62, as much a survivor as Dylan, it's twenty years since he laid down his weapons, but Dhlakama says he will pick them back up if the government does not start sharing the country's wealth.
His opponents dismiss it as the political manoeuvring of a leader under threat from the party's stalling popularity, and the rise of MDM as a new third force in Mozambican politics.
Others see the first signs of trouble. As Innus Ismail, a former Frelimo MP puts it to me: "Gas can improve or increase the problems for Mozambique."
Long term, if its neighbours are anything to go by, there could be two possible pathways for Mozambique. One model is Botswana's, wealth distribution and peace. Another is Angola's, the unequal distribution of the resource windfall, and the potential for a slide towards conflict.
It is an alternative that is less Dylan's "Mozambique", than his "Blood on the Tracks."