India battles Maoist influence with jobs scheme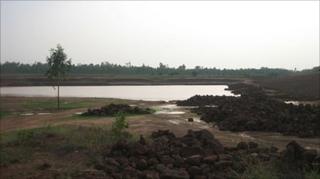 The BBC's Soutik Biswas travels to West Midnapore, a part of India with a strong Maoist presence, to find out how the authorities are trying to prevent rebels from gaining more ground.
Scrawny 24-year-old Kaushik Lohar lives uncomfortably close to a cluster of villages where India's Maoist rebels hold sway.
Jamdoba, where he lives with his parents and sister, is in West Bengal state's West Midnapore, one of India's 90 districts which, according to the government, are experiencing "consistent" Maoist violence.
A third of the population is made up of tribespeople, who eke out a living on largely arid, single-crop farms. The lack of a thriving farm economy means that most of them are poor, living in thatched homes with malnourished children.
Oasis of calm
Angered and alienated by decades of government neglect, many of them have turned to the rebels for succour.
The rebels have a presence in over 2,000 villages in what is now a violent district - security forces have been attacked and killed, an audacious attempt was made on the life of the state's chief minister by blowing up a highway, and politicians have been murdered.
But Jamdoba has managed to remain an unusual oasis of calm in this rebel country - largely because of the federal government's four-year-old landmark multi-billion dollar jobs guarantee scheme.
Also called the Mahatma Gandhi National Rural Employment Guarantee Act, it is being used to kick-start much needed development work in the area.
One of the world's biggest social welfare schemes, it guarantees 100 days of work a year for every rural home. Villagers build local infrastructure like roads, small dams, ponds and buildings.
Kaushik Lohar is a fortuitous beneficiary of a sudden rush of development work to keep the rebels away from his village.
He is among a few hundred locals who are helping to make a massive, 20-ft (6-m) deep earth dam - at a cost of 10 million rupees ($212,000). It should help recharge the fast depleting ground water, irrigate its parched single crop farms, and breed fish.
Work began last December and should finish in a few months. Officials say the dam has created over 35,000 man-days up to March this year - a considerable feat considering the odds being working against.
"If the Maoists were not at our door, all this wouldn't have happened," said Mr Lohar. "We have been waiting for development for decades."
He said he earns up to 3,000 rupees a month working on the dam, much more than what he used to earn as a daily wage worker.
"This dam will change our lives. I want to catch fish here and sell it in the market. Maoists will not be welcome here if they come here," he said.
Across the embankment, Sakhor Lohar, 20, is shovelling earth and looking ahead at the vast reservoir which is already flush with water after the first rains.
'Creating assets'
He said he was working as a mason in a nearby town earning half of what he earns in a day working on the dam - and it is regular work too.
"We are busy working these days. Maoists will not get any support here," he said.
His co-worker and neighbour Pradip Lohar, 23, left his job as a carpenter earning 70 rupees a day when he found work to help build the dam.
"I get paid more, and I am even managing to save some money. We are also creating an asset in the village which will help revive our farms. Hopefully," he said.
A few miles away, in Buriami village, which lies along a thickly forested corridor through which rebels travel regularly, villagers are busy making a pond under the jobs guarantee scheme.
Sixteen households share only one tubewell for water - two other tubewells are lying defunct.
"There is no water in the fields, so there is no crop, no work. We barely grow a single crop every year. This pond is our only hope for an improved life," said one local, Budhu Murmu.
Using the jobs scheme in innovative ways is also helping the authorities to woo the locals: villagers have built a 1km-long, 6-ft deep and 4-ft wide trench to keep marauding elephants out.
As Delhi wrestles with the question of how to secure development in the remote rebel-dominated areas, officials say some of the work has come to a halt after rebels came into the picture.
In Lalgarh, for example, some 125 villagers were engaged in making a small dam worth three million rupees. Five days into the work, the rebels came and asked for a meeting in the jungle with villagers and government officials.
"We could not agree so we backed out," one official said.
The jobs scheme created an average of 52 man-days of work per household in West Midnapore during 2009-2010. But in the Maoist-affected areas it created only 36 days of work, up from 21 days of work in 2008-2010.
"But it is the only way forward to take on the Maoists," said one official.
"This is nothing about winning hearts and minds. It's only about giving people work before the rebels come in and convince them that they are a better option than the state."