India and Pakistan to remain in touch after talks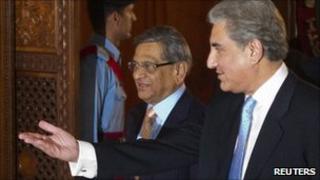 India and Pakistan have agreed to remain in touch after a meeting of the foreign ministers in Islamabad.
Pakistan's Foreign Minister Shah Mehmood Qureshi and his Indian counterpart SM Krishna met for seven hours of extended talks on Thursday.
They discussed several issues but failed to arrive at any breakthrough, reports say.
Relations soured after India accused Pakistan of failing to counter Islamist attacks in India.
The talks were the third high-level contact in six months and the foreign ministers' first meeting since 2008.
The two ministers said that their talks had been "useful" and "constructive".
There was lots of talk about confidence-building measures between the two nuclear powers but a distinct lack of detail of what they might be, says the BBC's Aleem Maqbool in Islamabad.
'Negative propaganda'
Correspondents say the press conference addressed by the two ministers following the talks pointed to a lack of a common ground between the two sides on most issues.
Replying to a question on why Hafiz Mohammad Saeed, the head of a Pakistan-based Islamic charity accused of involvement in the 2008 Mumbai attacks was being allowed to make anti-India speeches, Mr Qureshi took exception to a recent remark by the Indian Home Secretary GK Pillai.
Mr Pillai had told a newspaper that Pakistan's spy agency Inter-Services Intelligence was involved in the 2008 Mumbai attacks.
India blamed the bloodshed - in which Islamist gunmen killed more than 160 people - on Pakistan-based militants. After initial denials, Pakistan admitted the attacks were partly planned on its soil.
"I agree that both sides need to create an enabling environment and not let the climate of engagement be vitiated by negative propaganda," Mr Qureshi said.
"But I want to know to what extent did the Indian Home Secretary's statement on the eve of the dialogue help? We are both of the opinion that it was uncalled for.''
On the issue of Balochistan, where Pakistan has accused India of meddling in the past, Mr Qureshi said that the issue had been raised at the meeting and Mr Krishna's response had been "encouraging."
Mr Krishna, however, said that India had been waiting for "some evidence" from Pakistan to prove India's involvement.
"[But till now] there is not a shred of evidence," he said.
Mr Krishna said there had been an increase in infiltration across the Line of Control, which separates Indian- and Pakistani-administered Kashmir.
"These infiltrations are designed to create instability and restlessness in that part of India," he said.
Mr Qureshi responded that infiltration is "not a policy of Pakistan or any intelligence agency of Pakistan."
"But if there are individuals who have crossed over, deal with them firmly," he said.
In a statement, Pakistan's President Asif Ali Zardari urged both countries to maintain dialogue and steer away from conflict.