Bomb at used car market in Khyber, Pakistan, kills six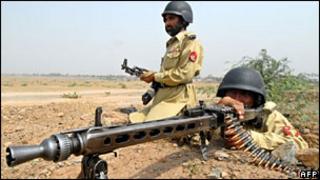 Six people have been killed and 15 injured in a bomb at a weekly market selling second-hand cars in Pakistan's tribal region of Khyber.
The blast went off at a bazaar in Kuki Khel town in the Tirah valley near the Afghan border.
The town is on the Nato supply route into Afghanistan, where there have been numerous Taliban attacks on convoys.
Pakistani forces have carried out a number of operations in the Khyber region against Islamist militants.
Kidnappings
The bomb was a timed device planted in a ditch at a busy used car market, senior local administration official Rehan Gul Khattak told AFP news agency.
Several major suicide attacks have hit Pakistan in recent weeks. An attack on Thursday killed at least five people in the Swat Valley, also in the country's north-west.
Last week, a pair of suicide bombers blew themselves up in the Mohmand tribal region, killing more than 100 people.
The BBC's Syed Shoaib Hasan in Karachi says the Khyber region harbours a number of militant organisations, including the pro-Taliban Laskar-e-Islam group, which has recently been the target of Pakistani military operations.
They have been accused of carrying out numerous kidnappings, shootings and attacks in Khyber.
In addition they have recently been waging a violent campaign to stop people worshipping at shrines, which they regard as heretical.
Lashkar-e-Islam militants were accused of blowing up at least two shrines in the nearby Landikotal region on Thursday morning.
Much of the local population visits shrines, although the numbers have declined since the Taliban's insurgency began.
Meanwhile, a police convoy has also been attacked near the town of Hangu in the Orakzai tribal region.
Officials say that four policemen were injured.
Islamabad is under US pressure to crack down on the unrest in the border region.