Pakistan and India foreign ministers in diplomatic spat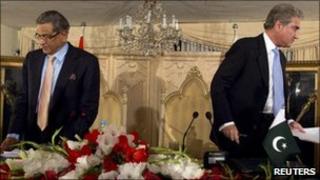 Pakistan's foreign minister has criticised the behaviour of his Indian counterpart during Thursday's high-profile talks in Islamabad.
Shah Mehmood Qureshi told reporters on Friday SM Krishna and his delegation had not been ready for dialogue.
He also said Mr Krishna had repeatedly interrupted the talks for phone calls from Delhi.
Mr Krishna denied the "extraordinary" claims. It was the foreign ministers' first bilateral meeting since 2008.
It was also the third high-level contact between the two nuclear-armed South Asian neighbours in six months.
'Not mentally prepared'
Talks broke off in 2008 after the Mumbai (Bombay) attacks - when Islamist gunmen killed more than 160 people - which Pakistan later admitted had been partly planned on its soil.
Ahead of the meeting, Indian Home Secretary GK Pillai was quoted by an Indian newspaper as accusing Pakistan's powerful intelligence agency of co-ordinating the carnage in Mumbai.
The two foreign ministers said at a joint news conference on Thursday that their day of talks had been "constructive", and agreed to meet again.
But a new picture emerged on Friday as Mr Qureshi told a news briefing: "India is not mentally prepared to engage in a dialogue".
He added: "I want to ask the Indian foreign minister, as he is the principal of Indian foreign policy and direction, why he made and received calls from Delhi so many times during the talks."
"The Indian delegation had not prepared its agenda," he added.
Mr Qureshi also accused India of being "selective" and "narrowing the dialogue".
'Scoring debating points'
He claimed India had refused to talk about Kashmir, which India regards as an inalienable part of India.
The northern territory has been the cause of two out of the three wars between India and Pakistan since they were partitioned in 1947.
Mr Qureshi also accused the Indian delegation of refusing to discuss another bone of contention, the strategically important Siachen glacier.
But in a news conference upon arrival at a Delhi airport, Mr Krishna hit back, denying he had taken policy guidance by phone during the meeting.
"I was totally cut off from India," he said. "I never used any telephone. It's an extraordinary statement to make."
"I will not score debating points over Foreign Minister Qureshi," he added. "I would like to concentrate on serious issues."
Mr Krishna also denied his delegation had not been ready for the meeting, saying: "India was fully prepared. Our mandate was clear, there was no ambiguity."
Meanwhile, police in Indian-administered Kashmir re-imposed a curfew on Friday in the summer capital, Srinagar, and several other towns across the valley.
The move came after separatist groups called for anti-India protests.
In recent weeks, 14 civilians have died in incidents involving shootings by police and paramilitary forces.