In quotes: Afghanistan conference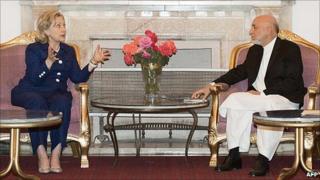 In their addresses to the international conference in Kabul, Afghanistan, world leaders discussed the issues of security, the transfer of power, and the need for good governance. Here is a selection of key quotes.
Hamid Karzai, President of Afghanistan
"We face a vicious common enemy that violates every Islamic and international norm to break our unity of effort.
"They would like nothing better than to create uncertainty, to force our publics to doubt our state power and our determination...
"I remain determined that our Afghan national security forces will be responsible for all military and law enforcement operations throughout our country by 2014.
"Our goal is to transfer the three organs for national security forces into trusted national institutes dedicated to fulfilling their constitutional duty of ensuring the integrity and security of our country...
"We all agree that steady transition to Afghan leadership and ownership is the key to sustainability.
"We are pleased that the international community in general and the United States, in particular, have committed to channel 50% of their assistance through the Afghan budget in the next two years.
"Our systems are strong and improving, and we are committed to working with donors to give them the confidence needed to channel resources through the Afghan budget.
"Let us together focus less on short-term projects. It is time to concentrate our efforts on a limited number of national programs and projects to transform the lives of our people, reinforce the social compact between the state and the citizens."
Hillary Clinton, US Secretary of State
"The Afghan government is stepping forward to deal with a multitude of difficult challenges.
"We are encouraged by much of what we see, particularly their work to improve governance. These steps are important. But much more work remains."
Mrs Clinton said US President Barack Obama wants to begin a "responsible conditions-based transition to Afghan security leadership in July 2011".
"The July 2011 date captures both our sense of urgency and the strength of our resolve," she said.
"Toward this end, the Afghan government, working with NATO, has developed a broad framework for the process that will help create conditions for transition, province by province, district by district, so the Afghan security forces can assume full responsibility for security in the transitioned areas.
"The transition process is too important to push off indefinitely. But this date is the start of a new phase, not the end of our involvement.
"We have no intention of abandoning our long-term mission of achieving a stable, secure, peaceful Afghanistan. Too many nations - especially Afghanistan - have suffered too many losses to see this country slide backward."
Anders Fogh Rasmussen, Nato secretary general
"Transition will be done gradually - on the basis of a sober assessment of the political and security situation, so that it is irreversible.
"And when it happens, international forces won't leave; they will simply move into a supporting role.
"We have not come this far, at this cost, to falter just as we see our common goal take shape."
Ban Ki-moon, UN secretary general
"Let us also be clear - just as Afghans are taking greater responsibility for governance and development, so must they take greater responsibility for security as well."
William Hague, UK foreign minister
"The transition to full Afghan security responsibility should be gradual and determined by Afghan capability, but it should be able to start soon.
"For our part, the UK will continue to provide support and training to the Afghan security forces until that goal is achieved.
"We will always need to see that the government is making the best possible use of our, and its own money.
"This means continuing on a path of improved financial management and budget execution, as well as tackling corruption at all times."