Sachin Tendulkar's blood in new book about cricket star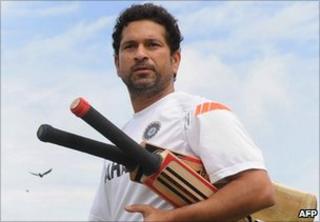 A special edition new biography of Indian cricketing star Sachin Tendulkar will contain drops of his blood, its publishers have reportedly said.
Costing $75,000 (£49,000) each, 10 copies are being printed containing a signature page mixed with his blood.
The 37-year-old batsman described the unusual tribute as "mind blowing".
With more than 1,500 pictures, the "Tendulkar Opus" biography will weigh 37kg (80lb) and each of its 852 pages will be edged in gold leaf.
Tendulkar's career has spanned two decades, during which he has scored more than 30,000 runs and become the only player to have hit a double century in a one-day international.
A bit weird?
The 10 special edition copies, which will contain traces of Tendulkar's blood mixed into the paper pulp for the signature page, have reportedly already been pre-ordered ahead of publication next February.
Carl Fowler, chief executive of the publisher Kraken Opus, told the UK's Guardian newspaper that their book may not be "everyone's cup of tea".
"Some may think it's a bit weird," he said. "But the key thing here is that Sachin Tendulkar to millions of people is a religious icon.
"And we thought how, in a publishing form, can you get as close to your god as possible?"
Kraken is also expected to publish about 1,000 regular copies of the book to be sold for between $2,000 and $3,000.
When asked what he thought about the "blood" special editions, Tendulkar's former teammate, Vinod Kambli, told NDTV: "I am taken aback."