Afghan soldier kills two US civilian trainers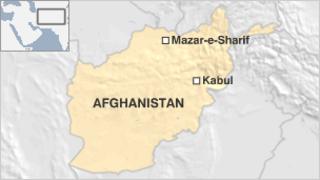 An Afghan soldier opened fire at a training base in northern Afghanistan, leading to the deaths of two US civilian trainers, Nato has said.
The suspected gunman and another Afghan soldier were also killed, Nato's International Security Assistance Force (Isaf) said.
The incident took place at Camp Shaheen, an Afghan army training base, outside Mazar-e-Sharif.
Last week, an Afghan soldier killed three UK soldiers in Helmand province.
One Nato soldier and one Afghan soldier were wounded in the incident at Camp Shaheen, Isaf said.
Afghanistan's ministry of defence and Isaf are investigating the shootings.
"Our joint investigation will find out how such an event could have occurred to help us prevent any future acts," Afghan ministry of defence spokesman Maj Gen Zahir Azimi said.
"The actions of this individual are not representative of the thousands of men and women who train and fight side by side with Isaf every day to protect their fellow citizens from insurgent brutality," said Isaf spokesman Brig Gen Josef Blotz.
Afghan President Hamid Karzai has just closed a major international conference on his country with a call for it to control its own security by 2014.
There are currently about 150,000 foreign troops in Afghanistan under Nato and US command fighting the Taliban insurgency.