Three killed in attack in western Bangladesh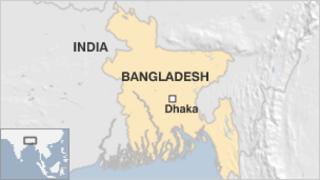 Three policemen were killed in an attack by suspected left-wing extremists in western Bangladesh, officials say.
The incident took place in a remote area in the district of Pabna.
Police say extremist groups have been active in south-western Bangladesh. They are wanted for murder, drug trafficking, abduction and extortion.
Reports say more than 70 people were killed last year in violence related to left-wing extremists in the country.
Tuesday's assault was the first major attack on security forces in recent months in the region.
A senior police official told the BBC that a team of security personnel went into the area after being tipped off that suspected left-wing extremists were holding a meeting there.
They came under fire from the extremists and all three policemen were killed on the spot.
Police at first said a local guide had been killed, but have now said he escaped and is alive.
Additional police forces have been sent into the area to search for the attackers. Media reports say people have fled the area, fearing arrest.