Delhi street vendors evicted before Commonwealth Games
By Geeta Pandey
BBC News, Delhi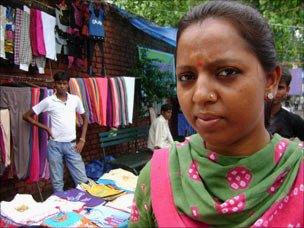 Every day for the past 30 years, Ram Prakash has been selling fruit in Delhi's Sarojini Nagar market.
He earns between 150 and 200 rupees ($3 and $4) a day, with which he supports the nine members of his family.
But now the Indian capital is getting ready to host the 11-day Commonwealth Games in October and Ram Prakash has been told by the civic authorities to pack up and leave.
"I have been told to go," he says. "They told me: disappear from Delhi and don't come back until the Games are over."
The order has left him seething.
"What can we do now? We will be forced to turn to crime, we will steal, we will rob people, we will pickpocket," he tells me.
"Or maybe I will poison my kids and then take poison myself and commit suicide. We'll either die ourselves or kill other people. What other option do I have," he asks me angrily.
Ram Prakash is among more than 4,000 hawkers who sell their wares on the pavements of Sarojini Nagar market and whose livelihoods are now threatened.
In June, the Delhi authorities announced that roadside vegetable sellers, cobblers, presswallahs (who iron clothes), and "illegal" vendors selling clothes and food were a "major security risk" and would be evicted.
Over the years, many of the vendors at this market have applied several times for licences. Since they have not received their licences, they are considered illegal, even though they can show the authorities documentary proof of their applications.
Officials from the municipal corporation arrive at the market every morning at 1000 and they do not let anyone set up stalls here.
Kavita Jadav, a henna artist for 15 years, says it is getting impossible for her to feed her family.
"The authorities say they want to clean up Delhi for the foreign visitors. They want to showcase Delhi as a beautiful city, they want to show that it's very clean and that there are no crowds.
"But they are doing that by taking away the livelihood of poor people like us."
Dinesh Kumar Dixit, secretary of the hawkers' association, says: "People come here from all over India for livelihood. Many have already left and gone back to their villages.
"When we go to the authorities, they say they will think about us after the Games. But by then, many will die of hunger. We've spent our entire lives here, where can we go now?"
The hawkers at Sarojini Nagar are not alone in their misery. There are roughly 350,000 street vendors in Delhi and the civic authorities want every one out.
Hundreds of ice-cream carts which have done brisk business at the Delhi landmark, the India Gate, for decades have been told they are no longer welcome there.
Omwati, a hawker from west Delhi's Uttam Nagar area, tells me that she and more than 200 other vendors have been evicted from there too.
The sole bread-winner for her family, she says she has to borrow money to be able to feed her children. "The Games are still some time away - how can we go without selling for so long," she asks?
Prabhakar Kumar Shaw has been evicted along with 250 others from the Dabri area, also in west Delhi.
"We have ration cards and voter ID cards - we are also citizens of this city," he says. "But the government is not bothered about us. They are chasing us away.
"We should also be part of the Games. We want to present our market to foreign visitors; we want to welcome them," he says.
Another critic of the campaign says civic authorities should value the contribution of street vendors to city life, as they do elsewhere in the world.
"They want to make Delhi a world-class city - which means a city for the rich and the middle class," says Arbind Singh, co-ordinator of the National Association of Street Vendors of India (Nasvi), which represents 400 street vendor organisations from 22 states.
"But the poor also need to be integrated in the city. The infrastructure that's being developed and created in the city should also benefit the poor."
Mr Singh says hawkers and vendors "add to the dynamics and diversity of the city".
He is calling for street vendors to be made a part of the city's culture like their peers in "other world cities like Rio or New York".
"In Taiwan, tourists go to street markets for food. Why can't Delhi be the same?" he asks.
It is mid-morning and even though the sky is cloudy, the temperatures are above 30 degrees and the humidity is oppressive.
But the shoppers are beginning to descend on Sarojini Nagar in large numbers.
The market is hugely popular with those looking for a bargain.
Young professionals and college girls scouring for branded export surplus clothing, fashionable imitation jewellery, fake designer bags and shoes are driving a hard bargain.
And they are unhappy with the decision to evict the vendors.
"We come here only for the vendors. College students like us prefer to buy things we can use and throw. We want cheap and cheerful stuff," says Shreya Nayar.
Her friend Poorti Sammadar says she is going to miss them. "I live nearby so I come here regularly. I buy daily wear t-shirts here for 100 or 200 rupees. Students like us can't afford the stuff in the showrooms."
Says housewife Kunti Rai: "This is their livelihood. This is the only way they can feed their children. Also for shoppers like us, where will we buy our stuff if they are not here? I don't want them to be evicted."
But civic authorities say anyone who does not have a licence to sell is "an encroacher on public land" and must be removed.
"Civic authorities routinely carry out drives against the encroachers and remove them," Municipal Corporation of Delhi spokesman Deep Mathur told the BBC.
"They are a hindrance to the pedestrian and traffic movement."
Mr Mathur says it is not possible to give licences to all applicants, since there is a limit on how many vendors can operate in the city.
The Commonwealth Games are going to be the biggest sporting extravaganza the Indian capital has ever hosted. Tens of thousands of tourists and visitors are expected to visit the city for the Games.
Delhi wants to put its best foot forward; it wants to look rich, clean and orderly. It seems that slums and hawkers, the poor and beggars have no place in the spruced-up city.
Mr Dixit, of the hawkers' association, says: "They don't want foreigners to see that India is poor. So if they get rid of the poor, there will be no poverty.
"It's a good plan," he adds, with bitter irony.
Related Internet Links
The BBC is not responsible for the content of external sites.