Ten Indian rebels from rival factions die in gunfight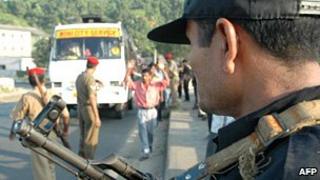 Ten fighters from two rival Indian rebel factions have died in a gunfight in a remote part of India's north-eastern state of Manipur, say police.
Four others were injured in the battle in the Seijiang hill region of Senapati district.
The combatants were from two Kuki tribal militias who are in a ceasefire with the government and military.
Since the truce, their turf war for control of territory and the drug trade out of next-door Burma has intensified.
The Kuki Liberation Army and the Kuki National Front-Presidium, who both claim to fight for a separate Kuki homeland, have been waging their rebellion for two decades.
Under a 2008 deal, the factions agreed to refrain from attacking security forces, but their internecine turf war has since mushroomed.
Wednesday night's gun battle lasted for several hours, according to Manipur police chief Joykumar Singh.
Kukis, one of the major tribes in Manipur, have previously clashed with other Indian separatist groups from the Naga tribe over homeland demands.
Hundreds of people died in fighting between the Naga and Kuki tribes in Manipur during the 1990s.