Pakistan drone attack 'kills 16 militants'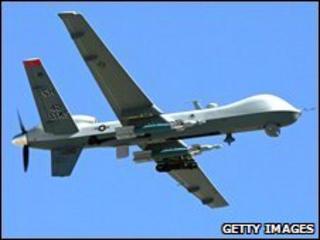 Missiles fired by a US drone aircraft have killed at least 16 militants in north-west Pakistan, officials say.
At least five missiles hit a compound used by insurgents in South Waziristan near the Afghan border, the Pakistani security officials said.
Pakistani media said scores of others were injured in the attack and the death toll was expected to rise.
South Waziristan is a sanctuary for al-Qaeda and Taliban militants blamed for attacks in Afghanistan.
A senior Pakistani security official told AFP news agency the compound, a suspected militant hideout, was in Dwasarak village, about 40km (25 miles) west of Wana, the main town in South Waziristan.
There were conflicting reports over the nationalities of those killed. Some reports said they were all Pakistanis, while others said foreign fighters were among the dead.
Controversial methods
It comes as the US's highest-ranking military officer, Admiral Mike Mullen, arrived in Pakistan, where he is expected to urge the authorities to take stronger action against militant Islamists.
Speaking in India before travelling to Islamabad, Admiral Mullen said he was concerned about links between Pakistan's intelligence service and extremist groups.
South Waziristan, along with neighbouring North Waziristan, has been the target of frequent attacks by the unmanned US aircraft.
US drone attacks are highly controversial in Pakistan, fuelling the public's strong anti-American sentiment, says the BBC's Jill McGivering.
Recently, a Taliban spokesman admitted to the BBC that militants had been affected by the attacks in neighbouring North Waziristan, but he said they would win the war in the end.