Tendulkar cricket book 'will not contain his blood'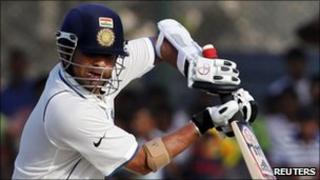 Indian cricket star Sachin Tendulkar has denied reports that drops of his blood will be imbued in a special edition of a new biography.
His publisher had told UK media 10 special edition copies would have the blood mixed with paper pulp for the signature page.
Tendulkar, 37, told the Times of India there was no truth in the claim.
Karl Fowler of publishers Kraken also told the paper his previous "thoughts on this have been misunderstood".
Mr Fowler had earlier told the UK's Guardian newspaper: "Sachin Tendulkar to millions of people is a religious icon.
"And we thought how, in a publishing form, can you get as close to your god as possible?"
But Tendulkar, who is playing for India in a Test series in Sri Lanka, told the Times of India: "There is no truth in my blood being part of the book.
"The book is basically a photographic publication that celebrates my life and is not an autobiography or a biography."
Charity
With more than 1,500 pictures, the Tendulkar Opus will weigh 37kg (80lb) and each of its 852 pages will be edged in gold leaf.
Kraken is expected to publish about 1,000 regular copies of the book to be sold for between $2,000 and $3,000.
Mr Fowler told the Times of India: "The Opus will not carry any blood as mentioned in the several articles/TV reports that have appeared over the last few days. I believe that my thoughts on this have been misunderstood."
Tendulkar said the proceeds of the book would go to charity and that there would be several different prices, with free copies for Indian libraries.
The Opus format has previously been used on subjects such as Michael Jackson, Ferrari and Manchester United.
Tendulkar's career has spanned two decades, during which he has scored more than 30,000 runs and become the only player to have hit a double century in a one-day international.