Maoist rebels 'killed' in India's West Bengal state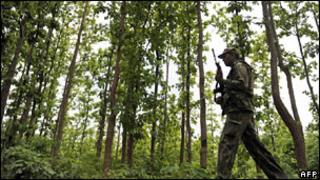 Police in India's eastern state of West Bengal say they have killed at least six Maoist rebels during a gun battle.
They say fighting began late on Sunday when paramilitaries and police surrounded a rebel base in Goaltore in restive West Midnapore district.
At least two paramilitary personnel were seriously injured in the fighting, police said.
Thousands have died in the rebels' decades-long fight against the state.
Prime Minister Manmohan Singh has described the insurgency as India's biggest internal security challenge.
'Not expecting us'
The latest clash began on Sunday night after the rebels spotted the security forces, according to West Midnapore police chief Manoj Verma.
"The rebels were clearly not expecting us," he said.
Police said on Monday they had recovered the bodies of six rebels, including a senior local commander.
This is the second time in as many months that the security forces have been able to take on rebels in West Bengal, the BBC's Subir Bhaumik in Calcutta says.
Seven rebels were killed in a similar incident in forests in the Ranjha area early last month, our correspondent says.
Police have generally been on the receiving end in West Bengal, he says - 24 paramilitaries were killed when rebels attacked their camp in the Silda area in February.
The government has been under pressure over the violence.
In April, 76 paramilitary troops were killed in an ambush in the state of Chhattisgarh - the single bloodiest attack on the Indian security forces the rebels have mounted.