Pakistan suicide bomber targets mourners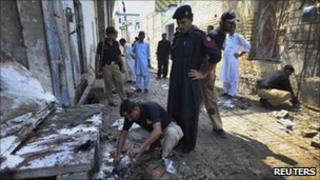 A suicide bomb near Peshawar has killed seven people near a gathering mourning a cabinet minister's son murdered in a suspected Taliban attack, police say.
About 20 people were also injured when the bomber struck on foot near the home of Provincial Information Minister Mian Iftikhar Hussain in the town of Pabbi.
Three policemen and four civilians died. The minister was not among the mourners.
The Taliban told the BBC they killed his 28-year-old only son two days ago.
'Boy bomber'
Monday's suicide bombing near a mosque where mourners had gathered damaged several shops and scattered human flesh in the town, 26km (16 miles) east of Peshawar.
Police said the attacker had been dropped off by a man on a motorcycle near the minister's home, and he blew himself up after an officer challenged him.
"The teenage boy, wearing black clothes, blew himself up when the policeman was trying to search him," Arshad Iqbal, a police official at the site, told news agency AFP.
Mian Iftikhar Hussain is considered the provincial government's most outspoken critic of the Taliban militants, who have carried out dozens of bombings in the area.
BBC Islamabad correspondent M Ilyas Khan, who is from Pabbi, says the minister and other VIPs were probably not the direct targets of this blast, as it was well known they were gathering at a college building several kilometres away.
Our correspondent says the militants may have been sending a message that they can reach Mr Hussain's home should they choose.
A spokesman for the Pakistani Taliban, Ehsabullah Ehsan, told news agency Reuters they did the bombing.
He has also told the BBC they gunned down the minister's son, Rashid Hussain, near his home in Pabbi on Saturday.
Pabbi is close to the home village of Pakistani-American Faisal Shahzad, who admitted to trying to blow up New York's Times Square in May.
Bombs and attacks blamed on Taliban and al-Qaeda-linked militants have killed more than 3,500 people across Pakistan, it is estimated, since government troops besieged a radical mosque in Islamabad in July 2007.
Much of the violence has focused on north-west Pakistan's border area with Afghanistan, where US and Nato troops are battling to turn around a nine-year war against the Taliban.