Body of US serviceman missing in Afghanistan found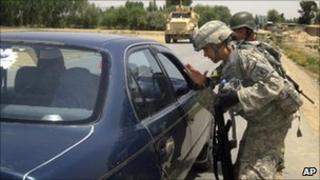 The body of one of two US sailors missing in Afghanistan since last week has been found, Nato says.
Afghan and foreign forces recovered the man's remains on Sunday in the eastern province of Logar after an extensive search, said a Nato statement.
The two vanished on Friday after driving out of a military base without escort for reasons that remain unclear.
The Taliban has already said they killed one of the men in a gun battle and captured the other.
Nato gave little detail on where or how the remains of the dead sailor were found.
Mystery mission
The alliance statement said that those holding captive the other serviceman would be held accountable for his safety.
The Taliban have said he is in a "safe place" where he will not be found.
A spokesman for the provincial governor told the BBC that tribal elders and religious leaders had succeeded in persuading those holding the sailor to keep him in Logar, rather than handing him to mainstream Taliban forces.
The BBC's David Loyn, in Kabul, says there is still no information about the men's mission.
They drove out of their base in standard desert camouflage uniform on Friday night in a four-wheel drive vehicle without any other forces to protect them.
A Colorado state legislator, Jim Kerr, told the Denver Post newspaper the dead sailor was his 30-year-old nephew, Justin McNeley.
Mr McNeley, a non-commissioned officer and father of two, had been due to return to the US in August, Mr Kerr told the newspaper.
The only other foreign service member believed held by the Taliban is Idaho National Guardsman Bowe Bergdahl, who was captured in June last year.
Meanwhile, Nato again denied its forces were responsible for a deadly rocket strike in Helmand province on Friday.
On Monday, President Hamid Karzai blamed the alliance for the incident, which he said had involved a missile from a helicopter gunship hitting homes in Sangin and killing 52 civilians.
But Nato said it was still investigating the claims. A spokesman, Todd Breasseale, added: "We do not know where the information they say they have is coming from."