Afghan TV station is closed down after Iran protests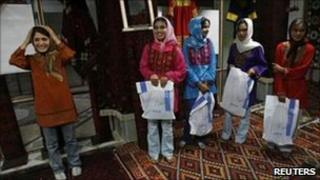 The authorities in Afghanistan have closed down the Emroaz TV channel.
Officials enforced its disconnection shortly after the channel's owner, the MP Najib Kabuli, had protested against the decision on screen.
He urged his supporters not to let the ministry of information impose a "one-sided decision" on the station.
Emroaz - which means "today" in Dari - has criticised leading Shia politicians in Afghanistan, accusing them of working for Iran. They deny this.
Iranian agent
Recently, Mr Kabuli accused Second Vice-President Mohammad Karim Khalili of being an Iranian agent, as well as leading Shia scholar Sheikh Asif Mohseni and Mohammad Mohaqiq, an MP representing the ethnic Hazara minority.
Mr Mohaqiq and Karim Khalili are both members of Hizbe Wahdat, which has fought against the Taliban and has received Iranian backing.
Mr Kabuli has in the past alleged that Iran was interfering in Afghanistan's affairs. He recently led a demonstration of several hundred people outside the Iranian embassy in Kabul.
Addressing the crowd, Mr Kabuli had said that Iran was hanging Afghan prisoners, burning their houses and stealing their water.
The Iranian embassy has rejected his claims - describing them as "lies".
On Tuesday, Mr Kabuli accused the Iranian ambassador in Kabul of putting pressure on President Hamid Karzai to take action against the station.
"Today, the complaints commission send me a letter and the first complaint filed against me is by the Iranian ambassador," an angry Mr Kabuli told the BBC.
''I am a member of parliament. I have a political party. I am the son of Kabul not a terrorist. When the council of ministers was making this one-sided decision, they should have at least have heard my side of the story.''
The ministry of information and culture and the president's office have refused to comment on the allegations.
But Abdul Hakim Hashir, head of the government's media office, denied that the decision had been taken under pressure from a foreign country.
"To create religious division or to create religious problems is against the constitution of Afghanistan. That is why the council of ministers have banned the station,'' he said.