Bhutan cabbies urged to show more passenger courtesy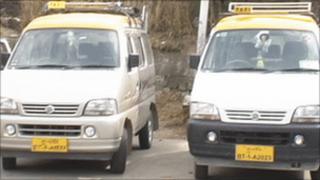 Cab drivers in the Himalayan kingdom of Bhutan have been urged to improve their manners and show more courtesy.
The Police and Road Safety Transport Authority (RSTA) has warned that cabbies who break the rules will face tougher penalties.
It says some are guilty of driving without a licence, dressing inappropriately, stopping abruptly and using loud musical horns.
They have also been warned not to "harass" female customers.
"The young girl you're dropping off is wearing shorts and as you change gear, you touch her legs. She protests, and you say, 'Uncle is just joking.' Well, you better remember uncle can get up to five years in prison for that joke," police Superintendent Tshering Penjor told 80 drivers attending the course in the town of Paro.
"We want to strengthen the relationship between police and cab drivers," Kuensel newspaper quoted Supt Penjor as saying.
He said that cab drivers could supply important information to police, and that drug takers were recently arrested in Paro thanks to a tip-off from a cab driver.
Cab drivers told Kuensel that while there had been a few isolated cases of sexual harassment, the problem was not rife.
"It's unfair for the public to just blame the taxi drivers - what about the rest of the male population, who also share the same natural instinct to look," one driver told the newspaper.