Poll shows Pakistanis growing less afraid of Taliban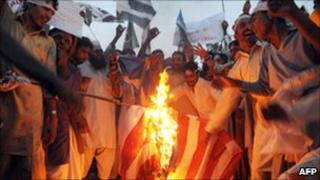 Pakistanis are less afraid the country will be taken over by extremists and feel less threatened by the Taliban than last year, research suggests.
The Pew Global Attitudes Project poll suggests that in 2009, 69% were very or somewhat worried about extremist groups taking control of Pakistan.
In 2010, just 51% of Pakistanis expressed such concerns, Pew found.
Meanwhile, nearly six in 10 Pakistanis polled described the US as an enemy and only one in 10 called it a partner.
By contrast, more than eight in 10 Pakistanis view China favourably and as a partner.
Among Pakistanis, support for US aid in the fight against extremists, including humanitarian aid, logistics and intelligence support, has waned, and Pakistanis widely oppose the war in Afghanistan.
Overall, the poll suggests Pakistanis are in a "grim mood" about the state of their country, despite fear of the Taliban and other extremist groups declining in the past year.
Some 54% of Pakistanis see the Taliban as a serious threat, down from 73% a year ago, when the Pakistan i military was fighting the Taliban within 100 miles of Islamabad, the capital.
Both the Taliban and al-Qaeda remain unpopular in the country, with majorities of Pakistanis holding negative views of the groups.
'No confidence' in Obama
The survey suggests Pakistanis have less confidence in President Barack Obama than in any of the 22 countries Pew surveyed.
Fifty-one per cent have "no confidence" he will "do the right thing" in world affairs, up from 44% last year.
Majorities disapprove of his handling of the wars in Iraq and Afghanistan, as well as Iran and the Israeli-Palestinian conflict.
The nation's views of the US remain broadly negative, with 68% of Pakistanis having an unfavourable view of the country.
That is unchanged since last year, and only in 2003, when the US launched the invasion of Iraq, was it higher at 81%.
The poll surveyed 2,000 Pakistanis and has a margin of error of plus or minus 3%.