Nepal rejects killer Charles Sobhraj's appeal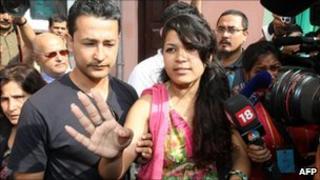 The Supreme Court in Nepal has rejected an appeal by convicted killer Charles Sobhraj over the murder of an American backpacker.
Sobhraj, a 66-year-old French national, was convicted in 2004 for the murder.
Known as the "bikini killer", he is wanted in a number of Asian countries in connection to the murders of more than 20 Western backpackers during the 1970s.
Nepalese police arrested Sobhraj in September 2003 at a Kathmandu casino.
He was sentenced to life imprisonment for the murder of US tourist Connie Jo Bronzich in 1975.
A previous appeal against his life sentence was rejected in 2005.
"Although there is no direct evidence, based on circumstantial evidence, we don't see any fault in the decision of the Kathmandu district court and the Patan appellate court," Justice Ram Kumar Prasad Shaha ruled on Friday.
"Therefore, we uphold their verdict."
Sobhraj, who has spent 20 years in jail in India, is also wanted in connection with the deaths of Western women at the Pattaya beach resort in Thailand.
Four policemen and a prison official were suspended for allegedly trying to help him escape from prison in November 2004.
A life sentence in Nepal usually equates to 20 years in jail, observers say.