'Black box' found from Pakistan's worst plane crash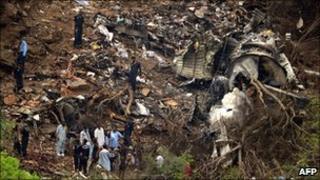 Investigators scouring the wreckage of Pakistan's worst-ever air disaster have found the plane's flight data recorder, officials say.
It is hoped the "black box" will provide clues as to what caused the Airbus A321 to crash as it was about to land in the capital Islamabad on Wednesday, killing all 152 on board.
The recorder has been sent overseas for analysis.
The crash happened in heavy monsoon rain and poor visibility.
The domestic flight from the southern city of Karachi was operated by the private Pakistani airline Airblue.
"The investigating committee found the black box from the Margalla Hills this morning," Pakistan Civil Aviation Authority's Director General Junaid Ameen told AFP news agency.
He said the box would be sent to "foreign experts" for analysis.
The plane - with 146 passengers and six crew on board - was flying at an extremely low level before crashing into the Margalla hills north of the capital.
A day of national mourning was held on Thursday, and flags flew at half-mast across the country.
Bad weather and difficult terrain had hampered efforts to recover victims' bodies, and some remains were so badly damaged in the crash that DNA tests were to be used to identify them, officials said.
Many flights on the popular route from Karachi to Islamabad have been cancelled in recent days because of bad weather that has caused devastated flooding across the country's north-west, correspondents say.
Questions are also being asked about whether the plane should have been allowed to fly, and whether the tragedy could have been averted.