Kashmir civilians killed in clashes with Indian forces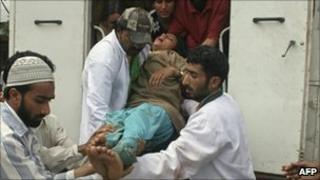 At least two people have been killed in Indian-administered Kashmir in a second day of protests against Indian rule.
Indian police and paramilitaries fired live ammunition and tear gas as demonstrators threw stones.
Protesters gathered in several places to defy an indefinite curfew imposed by the Indian authorities in all major towns across the Kashmir valley.
The curfew was ordered after four people died on Friday as Indian forces dispersed demonstrating crowds.
Twenty-three people, mostly teenagers, have now been killed in the last seven weeks in such clashes, says the BBC's Altaf Hussain, in Srinagar, the capital of Indian-administered Kashmir.
'Excessive force'
India and Pakistan both claim mostly Muslim Kashmir in its entirety; the nuclear-armed neighbours have fought two of their three wars over the Himalayan territory.
In Saturday's violence, a young man was killed in northern Naidkhai village when Indian forces opened fire as a group of protesters tried to attack a police camp, according to police.
Later in the day, another man was killed when Indian forces opened fire at rock-throwing protesters in neighbouring Baramulla town, police said.
Our correspondent says those killed had bullet wounds in the upper parts of their bodies. Several others were injured.
Protesters also torched two Indian Air Force vehicles in Pampore, a town on the outskirts of Srinagar, police said.
Meanwhile, a group of people in Sopore town set fire to a railway station.
Jammu and Kashmir Law Minister Ali Mohammad Sagar earlier this week accused Indian police of using excessive force against unarmed protesters. Indian authorities denied the charge.