Afghan roadside bomb kills six civilians in Kandahar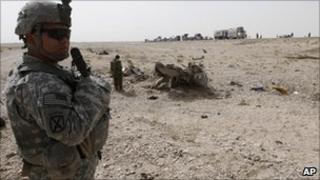 Six Afghan civilians have died after their minibus struck a roadside bomb in the southern province of Kandahar.
Nine others were wounded in the blast in Maiwand district, said provincial spokesman Zalmai Ayoubi.
Kandahar is seen as the birthplace of the Taliban and at the centre of Nato's plans to end nearly nine years of insurgency.
It was not clear whether the bomb targeted the minibus or was meant to hit a passing Nato or Afghan patrol.
The Taliban are fighting to overthrow the US-backed government and expel more than 130,000 foreign troops based in Afghanistan.
Nato has said taking control of Kandahar is the key to reversing the group's momentum.
The Taliban has stepped up its attacks since US President Barack Obama ordered 30,000 reinforcements to Afghanistan last December to step up the fight against the Taliban.
On Friday, hundreds of UK and Afghan troops launched a major offensive against the group in neighbouring Helmand province.
Operation Tor Shezada (Black Prince) is said to be UK forces' largest offensive since Moshtarak in February 2010.