Nine die in Kashmir protest clashes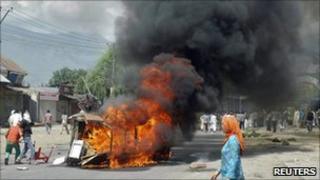 At least nine people have been killed in violent clashes between local residents and police and paramilitary forces in Indian-administered Kashmir.
Four of them died when a police station was set alight near Srinagar and its explosives dump blew up.
Locals were angry that police had opened fire on a demonstration against Indian rule, killing two participants.
In nearby Pampore, at least three protesters were killed after Indian forces opened fire.
Thirty-two people have now been killed in clashes with police and paramilitary forces in the Kashmir valley in the last seven weeks.
On Friday, an indefinite curfew was imposed in much of the valley after four people were killed at a protest. Another two died on Saturday.
Appeal for calm
The deadliest day in Indian-administered Kashmir since the recent unrest first saw two people killed and five others injured when government forces opened fire to disperse people throwing stones at a protest in Khrew, close to Srinagar.
Angered by the deaths, residents attacked a police station in the town, which also housed a state counter-insurgency force, setting it alight.
Inside the building was a considerable amount of explosives used by local quarries, and the fire is thought to have triggered the blast that followed, killing four people.
"A deafening explosion shook the earth beneath and a flying brick hit my head," Mohammed Yousuf, a witness, told the Associated Press. "We don't know what happened inside the premises, but outside many were left injured."
Police officers are said to have fled the premises before the blast.
Meanwhile in Pampore, 13km (8 miles) south of Srinagar, at least two protesters were shot dead when troops opened fire at another demonstration.
The BBC's Altaf Hussein in Srinagar says a large number of people had earlier marched through the town, chanting anti-India slogans.
Some threw stones at police and paramilitary troops, who responded by firing live ammunition, our correspondent says.
Later, police officers opened fire on the funeral procession for the two victims. A woman was hit in the head and later died in hospital.