UN shortens blacklist of al-Qaeda and Taliban members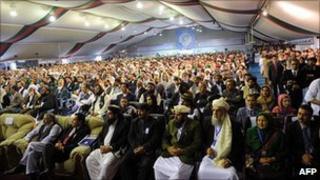 Ten members of the Taliban and 14 people linked with al-Qaeda have been removed from the UN's sanctions list, as part of a long-running review.
The UN also removed 21 organisations linked with al-Qaeda, but has not yet released the names of those affected.
Afghan President Hamid Karzai has been seeking such a move in order to ease reconciliation talks with insurgents.
In 2008, the UN asked officials to review 488 names on its list of those facing travel bans and asset freezes.
Thomas Mayr-Harting, chairman of the UN Security Council panel maintaining the blacklist, told reporters there were now 433 names left on the list: 132 Taliban and 311 al-Qaeda affiliates.
He said 66 names on the list were still under review.
All 15 members of the Security Council have to approve any decision to delete names from the list.
Diplomats say Russia in particular has been reluctant to delist, worried about drug trafficking linked to the Taliban, and about possible connections between the Taliban and Islamist militants in Chechnya.
It has to be demonstrated that candidates for delisting have renounced violence and any links to al-Qaeda and accepted the Afghan constitution.