Taliban suicide attack on Nato's Kandahar airbase fails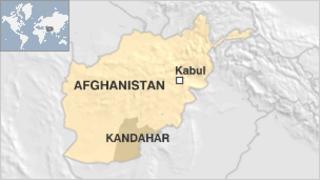 A Taliban attack on an airbase in southern Afghanistan led by a suicide bomber riding a tractor has been repelled by Nato forces.
The man riding the machine blew himself up at the perimeter of the base near Kandahar city in an attempt to clear the way for other fighters.
The other Taliban fighters who advanced on the base under cover of rocket fire were killed or turned back.
A spokeswoman for Nato forces said the hour-long attack had been unsuccessful.
Taliban spokesman Yousuf Ahmadi said they had been responsible for the assault.
New offensive
Some reports said that a foreign soldier had been wounded, but this has not been confirmed by Nato or US officials.
The Kandahar airfield, 15 miles (25km) outside Kandahar city, is one of the largest Nato military bases in Afghanistan.
It frequently comes under rocket attack, but Taliban ground assaults on the base are relatively rare, reports say.
This is the first concerted attack on the base since May, coming at a time when there is much speculation about a new Nato offensive to take control of Kandahar, the spiritual home of the Taliban, says the BBC's David Loyn in Kabul.