Pakistan floods: Eyewitness diary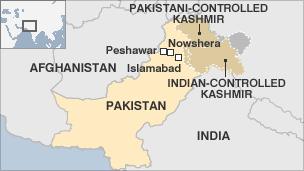 It is estimated that 1,600 people have lost their lives in the Pakistan floods, and 14 million people have been affected.
Habib Malik from Scotland works for the aid charity Islamic Relief UK. He left Pakistan on 8 August, after spending a week in Nowshera in north-west Pakistan.
He has been giving the BBC regular updates on the relief effort.
When I arrived in Pakistan a week ago, I mentally prepared myself based on the facts at the time: news agencies reported about 400 people had been killed and nearly half a million people had been displaced.
One week after the initial reports went out, the reality is that the true death toll is difficult to pin down. Latest estimates put it at 1,600 people and I pray that this does not rise.
It is difficult to put into words the devastation that Pakistanis are facing, but as I return home to Glasgow, I cannot help translating the effect of the floods into something concrete.
Fourteen million people have been affected by the floods and the population of Scotland is five million - that's the equivalent of three Scotlands being flooded.
Although I am back in my comfort zone, I am struggling to come to terms with the agony that the survivors of the flooding are enduring. Unfortunately, this suffering is ever-intensifying.
This world is fragile and when a disaster as devastating as this occurs, we need to do everything we can to ensure that we support those affected.
So thank you to the generous donors, who are contributing to the numerous humanitarian appeals out there from the Disasters Emergency Committee, Islamic Relief UK, and all the other agencies working so tirelessly to try to mitigate the effects of this catastrophe.
I cannot wait to return to Pakistan in a few months time to see the difference that people's generosity has made.
More monsoon rain is falling, jeopardising rescue efforts.
Bridges have collapsed and the communication system is destroyed. People are still sitting on their houses.
People urgently need water, food, medical supplies and shelter.
The worst affected are the children - they are showing signs of cholera and other water borne diseases.
The the lack of roads and bridges is also a challenge. The relief effort must use local routes to transport goods, but those routes cannot handle long trains of lorries, so the transport of relief is very slow.
At last I've arrived here in the outskirts of Nowshera and I'm welcomed to this college, which is closed now, but has been opened to internally displaced people (IDPs).
I've just been told that this site was opened about two-and-a-half hours ago. Already about 1,000 IDPs have been registered.
People everywhere are sitting in the shade. Today, surprisingly has been sunny, but people have told me that it has been raining for the last six days.
These people have lost their homes, they have lost their livelihoods, and some have lost their relatives.
What they urgently need is food and clean water.
Tomorrow more rain is predicted.
Related Internet Links
The BBC is not responsible for the content of external sites.