Petraeus focuses on civilians in Afghan directive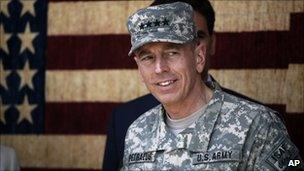 David Petraeus, the top US and Nato commander in Afghanistan, has stressed the need to avoid civilian casualties in a new directive to troops.
The order re-emphasises many of the rules of Gen Petraeus' predecessor, Gen Stanley McChrystal.
Gen Petraeus took over as commander of 140,000 US and Nato troops on 4 July.
The Taliban issued their own "code of conduct", telling fighters to avoid killing civilians and forbidding them to seize weapons and money last week.
"Every Afghan civilian death diminishes our cause," Gen Petraeus said in a statement.
Use of excessive force, he argued, could turn "tactical victories" into "strategic setbacks".
One of Gen McChrystal's most critical legacies was the increased emphasis he placed on reducing civilian casualties, BBC defence and security correspondent Nick Childs notes.
So sensitive is the issue that the US clearly could not water-down its approach and Gen Petraeus talked not only of continuing, but redoubling, the effort, our correspondent says.
But there has also been concern that this initiative has put Nato-led, and especially US, forces at additional risk themselves, he adds.
In his new guidance, Gen Petraeus re-emphasises his forces' right to defend themselves, and says his commanders should reinforce that message.
Some details - such as the conditions under which troops are allowed to proceed with strikes without being able to assess civilian presence - were kept out of the public version of the new directive for security reasons.
Gen McChrystal, fired by US President Barack Obama over a controversial interview he gave, announced a new order in 2009, limiting the circumstances in which troops could call in an air strike or fire into buildings.
The US says it has been effective at reducing the number of civilian casualties since then.
Gen Petraeus' directive underlines the need for co-operation with Afghan forces, saying every operation and patrol must be partnered with an Afghan unit.
"Some civilian casualties result from a misunderstanding or ignorance of local customs and behaviours," it states.
Last month, the whistle-blowing website Wikileaks leaked a cache of documents relating to the Afghan war, which suggested that many civilian casualties were going unreported.
The Taliban's new code of conduct prescribes the death penalty for any fighter who harms civilians not siding with the Afghan government or the Nato-led coalition.
However, the booklet also spells out that people who are working for international forces or the Afghan government are "supporters of the infidels" and can be killed.
In the past, the insurgents have dealt severely with Afghans they suspect of spying. Beheading, public execution and stoning are common in Afghanistan's lawless rural areas, the BBC's Bilal Sarwary reports from Kabul.
The insurgents' efforts to win over civilians are undermined by increasing suicide and roadside bomb attacks that kill civilians, but their shadowy government has spread to most of Afghanistan's volatile rural areas, our correspondent says.
A senior Afghan interior ministry official dismissed the Taliban code of conduct as "mere propaganda".
''They arrest innocent villagers and behead them on the spot," he said.
"They know we are going to be clearing a lot of the areas, so they are going to spread fear.''