Officials investigate suspected tiger attack in Bhutan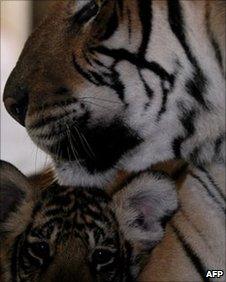 Officials in Bhutan say a man found dead in forest near the town of Trongsa may have been killed by a tiger.
If confirmed it would be the first tiger attack in the remote Himalayan kingdom in 15 years.
Forestry officials said the severity of the wounds led them to conclude that they had been inflicted by one of Bhutan's Royal Bengal tigers.
However, officials from Bhutan's Nature Conservation Division (NCD) say that further investigations are needed.
NCD officials said that since there were no tiger footprints or other evidence found in vicinity the attack could have been done by another wild animal such as a bear or leopard.
An NCD team has been despatched to Trongsa to investigate further.
A spokesman told Bhutan Kuensel newspaper that the NCD team will meet local residents and collect information, and set camera traps to see if there is tiger in the vicinity.
"If confirmed, this is the first tiger-attack incident in Bhutan, so the department is still working on it," they added.
The Royal Bengal tiger, the largest tiger sub-species, is the only tiger found in the remote Himalayan kingdom.
The population in Bhutan is believed to number about 60 to 70 breeding animals and about 100 others.
Related Internet Links
The BBC is not responsible for the content of external sites.