Kashmiri leader calls for peaceful protest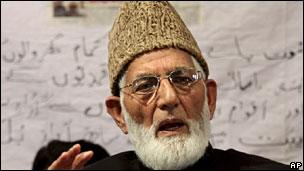 A prominent separatist leader in Indian-administered Kashmir has urged young Kashmiris not to throw stones or use violence in their protests against India.
Syed Ali Shah Geelani's comments came as India's home affairs minister in Delhi said he deeply regretted the recent violence and that it must stop.
At least 28 people have been killed in the valley the past week.
Most of the dead are protesters who have been shot by the police.
Much of Indian-administered Kashmir is still under curfew amid an extremely heavy security presence on the streets.
Mr Geelani, who has been released after more than six weeks in detention, said that the use of force by Indian security forces was provoking Kashmiri youth to turn violent.
"But I have asked the youth to stage a sit-in whenever and wherever the Indian security forces stop their protest marches," he said.
"I have told them (youth) to raise their hands and ask the Indian troops to kill them."
Home Affairs Minister P Chidambaram told parliament on Wednesday that the violence in Kashmir - which has now been reduced to isolated clashes - now had to stop.
He said the security forces had shown "commendable restraint" despite coming under repeated attacks from stone-throwing protesters that had resulted in more than 1,260 injuries over two months.
Related Internet Links
The BBC is not responsible for the content of external sites.