Flash floods kill dozens in India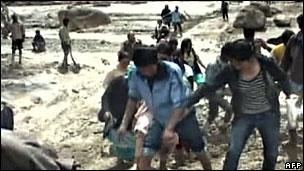 At least 48 people have died in flash floods in the Ladakh region of Indian-administered Kashmir, officials say.
Nearly 200 people were injured after heavy rains late on Thursday led to flash floods.
Many houses, a hospital, a college and the office of a telephone company have been damaged in the floods, senior official Naseema Lankar told the BBC.
The army has been called in to help in the rescue work. The monsoon season generally lasts from June to September.
Ms Lankar said "the cloud burst" had hit Leh town and several villages. Choglamsar village was the worst affected.
"Mud and water is everywhere," businessman Kausar Makhdoomi, who was on holiday in Leh told the Associated Press news agency.
He said water began flowing from he neighbouring mountains into the town before midnight.
"There was utter confusion and people started to panic," he said.
Monsoon rains are critical to India's farming output, which accounts for a sixth of the total economic output.
Heavy rainfall can be deadly in hilly areas of the country which are more prone to landslides, flash floods and building collapses.
Related Internet Links
The BBC is not responsible for the content of external sites.