Nato urged 'to do more' on Afghan-Pakistan border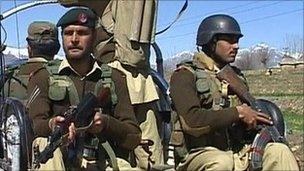 A senior Pakistani security official has called on Nato forces to do more to control the Afghan-Pakistan border.
Maj Gen Tariq Khan said it was not fair to expect Pakistan to take on all the responsibility.
He was speaking to the BBC about growing pressure on his country from the US and UK to take action in the tribal area of North Waziristan.
The area is regarded as a hub for many militant groups, including what is known as the Haqqani Taliban network.
The issue is certain to come up in talks between British Prime Minister David Cameron and Pakistani President Asif Ali Zardari.
The president has already said that Nato forces in Afghanistan were losing the war.
"North Waziristan is a problem," Maj Gen Khan said.
"But the Pakistani military will deal it," he said, "in its own way, and in its own time."
The general also threw down the gauntlet.
If North Waziristan was creating such a problem, he asked, why has Nato not done more to manage the border, rather than "roam around places like Kandahar, [Afghanistan]"?
Maj Gen Khan pointed out there were more than 40 countries with troops in Afghanistan, and only one country - Pakistan - on the Pakistani side of the border.
He said Pakistan had four times the number of border posts and was taking double the casualties compared with Nato.
"People have to put their money where their mouth is. We will do more when others also take up their responsibility of at least looking after the borders," he said.
North Waziristan is, in effect, controlled by the Taliban.
Speaking about North Waziristan's reputation as a hub for many militant groups, he said that it was not acceptable to have an ungoverned portion where the Taliban are waging war.
Related Internet Links
The BBC is not responsible for the content of external sites.