BBC man's happy, hopeful Kabul homecoming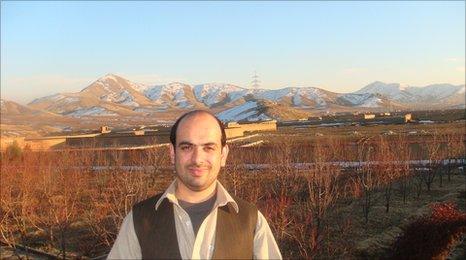 After four years studying at a college in the US state of Vermont, BBC Kabul reporter Bilal Sarwary, 28, returns to his home in the Afghan capital to find the place has changed greatly in some ways, but in others not at all.
"This is your captain. We are about to land at Kabul International Airport."
The deep, husky voice of the pilot filled my heart with joy and my eyes with tears.
Although America was very kind to me, I had missed my home every moment of the past four years.
There was also a fear in my mind.
I had now become used to living an organised life. Would I be able to adjust?
But my fear disappeared as the doors opened and the fresh, sweet air gushed in.
A pleasant surprise awaited me. We were taken to the new terminal, to the west of the old terminal from where I had taken my flight to the US four years ago.
My departure had been marked by chaos and heavy security checks which went on forever.
But the new terminal was a contrast.
The ceiling had no bullet holes and there was no mess of exposed wiring.
There were also fewer opportunities for the staff to collect "tips".
Although in my own country, I felt a little "foreign".
The BBC had kindly sent the office car with Wali, an old reliable hand from our Kabul bureau at the wheel.
I was on the road, soon to begin a new chapter in my life.
The ride out of the airport was smooth.
The dust-choked dirt road I remembered was now a four-lane tarmac highway, freshly painted with red and white stripes.
There were also fewer military vehicles in sight.
Smart new Afghan flags fluttered as our car passed by.
That first night in Kabul after my American sabbatical, I had a dinner invite from an old acquaintance, a 70-year-old tribal elder from Uruzgan province.
Over the dastarkhan, the floor covering on which meals are shared in Afghanistan, I questioned the elder, asking: "Have things changed over the past four years?"
About to devour his fourth naan bread, he paused, looked up and said: "Why don't you find out yourself? Go, speak to a Kabul taxi driver, a barber and a musician.
"They are the ones who are closest to the ground. They interact with people of all classes. They will give you the answer."
So the very next morning I tried to flag down a cab in the downtown Share Naw area of the Afghan capital.
Several unsuccessful attempts later, a yellow Kabul taxi stopped.
A face covered with a white beard peeped out of the window.
"I want to tour the city," I said.
"Are you crazy?" he shot back. "This would cost you 1,000 Afghanis."
After persuading the driver, Mohammad Hassan, that I was actually sane, he let me get in.
Seven years ago, Mr Hassan had travelled hundreds of miles from Hazarajat in central Afghanistan to Kabul in search of a living.
I found it was not difficult to get him to open up.
"Afghanistan is like a wounded animal," he said. "It needs a doctor with clean gloves, or else it will die of bleeding."
Corruption, poverty and insecurity are the wounds, he explained, and by a doctor he means an able administrator, one who could drive the country out of this mess.
"This is what my passengers tell me every day," he added.
The old, battered taxi was struggling to negotiate Kabul's snarled-up traffic jams.
As we inched our way to west Kabul, I could see the armoured land cruisers which have become a permanent fixture on the city's roads.
Surprisingly, there were many more swanky, imported cars and SUVs on the streets than I had ever seen before.
Prosperity was, indeed, honking at Kabul.
Several glass-panelled buildings now line the roads, replacing war-battered, bullet-pocked ruins.
Pointing out one such construction, Mr Hassan said a lot has changed.
"During the civil war days, you couldn't walk on streets as freely," he said. "Bullets used to rain on Kabul."
"Freedom was the biggest casualty under the Taliban," he added.
"Afghans were like birds in a cage. We are out of the cage now, but the war is still on," he said.
Like millions of his countrymen, Mr Hassan has been a victim of the conflict.
His son, a meat seller, was killed when a suicide bomber struck a busy Kabul market two years ago.
But the incident has not dented his positive outlook.
"Peace will return one day, Inshallah!" said the cabbie, as I bade him goodbye.
My second day began at a barber shop run by a man called Wahid, which is a top destination for all those seeking a "close shave".
His clients include parliamentarians, senior officials, foreigners and ordinary Afghans.
"Crewcut, shortcut or military cut?" he asked as I settled down on the raised stool.
A careful examination of my receding hairline, and both of us agreed that a trim was my only option!
''I have been running this shop for the past 58 years," Wahid said as he got to work.
"King [Zahir] Shah's time was the golden period [for Afghanistan].
"There was food, prosperity and peace. Civil war ruined it. And then the Taliban robbed Afghanistan of whatever little was left."
"What about now?" I asked.
"We have nothing to lose now," he said. "We can only move up from here. But that will happen only if the Afghans stop moaning and join in the reconstruction efforts."
On the third day I made the last stop on my mission at Kabul Shoar Bazzar, also known as the music street.
There I spoke to Omaid, a musician who said that his business is thriving. He is booked for the entire week, playing mostly at weddings.
"Peace has returned to Afghanistan," Omaid said as he got ready for a performance.
"There are hundreds of weddings in Kabul everyday. Isn't this a sign of peace?"
I decide to walk back to my office, reflecting on what Omaid had said: "The job of a musician in a place like Afghanistan is to make his audience forget their problems."
Maybe that is why Omaid sings only happy songs!