Indian prime minister calls for end to Kashmir violence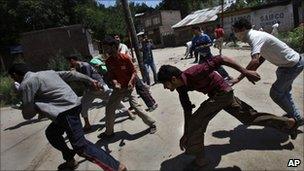 Indian Prime Minister Manmohan Singh has called for "the cycle of violence" to end in Indian-administered Kashmir.
In a TV address aimed at Kashmiris, his first since recent public protests began, he said the bloodshed had caused him "great pain".
He appealed to young people to go back to schools and colleges to study.
The problems in the region had to be resolved through political dialogue, he said, while promising relief for flood victims in Ladakh.
"The cycle of violence must now come to an end. We must collectively ensure that no innocent life is lost again," Mr Singh said.
Correspondents say the prime minister did not give details as to how Kashmir's problems could be resolved.
"Even with the best of these intentions, I cannot say that a complex problem that has defied resolution for 63 years can be solved easily or quickly," he said.
Hundreds of thousands of troops are based in Kashmir to fight a two-decade insurgency against Indian rule.
The territory - a third of which is in Pakistan - has been the centre point of two of India's three wars against Pakistan since both countries won independence in 1947.
Mr Singh also pledged to do all he could to help flash flood victims in the predominantly Buddhist Ladakh region of Indian-administered Kashmir, where five European tourists were among at least 160 people killed since Friday.
Hundreds of people are also missing after sudden rainfall swept away roads, houses, bridges and power cables.
Related Internet Links
The BBC is not responsible for the content of external sites.